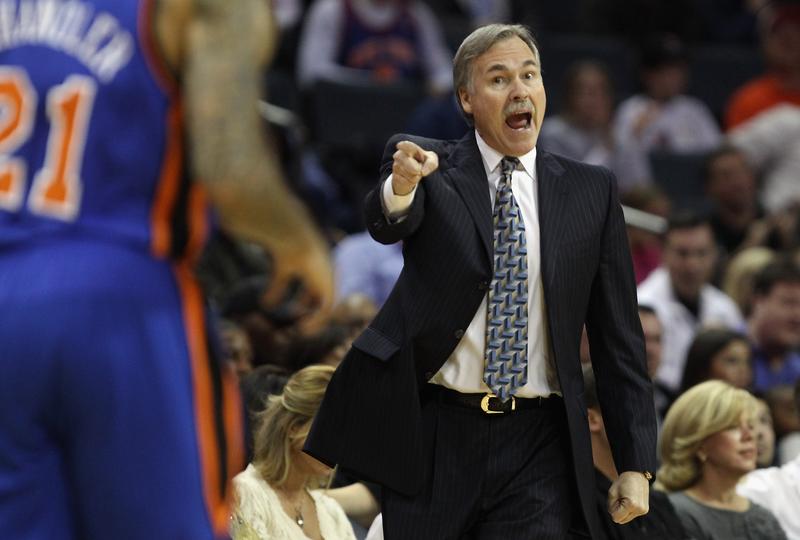 It was bound to happen. At some point in the last 10 years the New York Knicks were going to have to be relevant. The Boston Celtics, on the other hand, are the standard bearers in the Eastern Conference, are on a 10-0 streak, have the second best record in the NBA and they are stacked at all positions. Tonight the streaking Knicks will face their greatest challenge of the season. What will they need to do to win?
Matchups
Last year New York coach Mike D'Antoni used the 6' 11 Jared Jeffries to guard rising superstar and Celtic point guard Rajon Rondo. This might be an effective strategy tonight. Instead of having New York point guard Raymond Felton chase around Rondo all night, why not let the rookie guard Landry Fields use his extra six inches of length to put a hand in his face and shut down the Rondo passing lanes.
Boston's big men are ailing so that suggests that tonight will be a perimeter game. On the inside Amare Stoudemire of the Knicks will face off against the Celtic leader (and reincarnation of Bill Russel) Kevin Garnett. Mark my words: whomever stays out of foul trouble will lead his team to victory.
Amare Stoudemire's Big Shoulders
Amare's got broad shoulders, there's no denying that. He has used them to carry this Knicks team. Over the course of the last eight games he has become the first Knick to ever score at least 30 points in eight consecutive games. He is third in the league in scoring with 26.2 points per game and is also in the top 10 in the league in blocks and double doubles — games where he scores and rebounds in the double digits.
Most importantly, though, Amare leads the NBA in scoring in the fourth quarter and one of the problems with the Knicks in recent years is that they did not have the "leader" that fearless, peerless presence that could take the team and put them on their shoulders. True, he has not seen team defense like the Celtics play and the energized Keving Garnett will surely be a factor.
If the Knicks want to beat the Celtics' Stoudemire has to stay out of foul trouble and score close his 30-plus points.
Offense Wins Games
There is a famous saying in sports that goes like this: "Offense wins games, defense wins championships". Well, this game tonight is simply a regular season game. There is only respect on the line, no championships. That bodes well for the Knicks high-octane offense. New York's scoring average is an NBA best 108.5 points per game. New York also ranks in the Top 10 in NBA in three pointers attempted (first, 24.7), three pointers made (first, 9.1), FT percentage (second, .812) points in the paint (fifth, 45.2) — so they are efficient and productive.
Landry Fields
Landry Fields, is the rookie from Stanford who has excelled for the Knicks this year. He has become a fan favorite and is leading the NBA in rebounds by guards. Fields is mature and has earned this moment. He came into the league after a senior year of college basketball, allowing time for his game, and most importantly, for his mind to be able to guide him to sieze this day.
For better or for worse, Fields is probably playing himself and his low rookie contract, right into the hands of another team. His name has surfaced, along with Danilo Gallinari, as trade rumors that involve bringing Denver's Carmelo Anthony to NYC. Lets hope they find another way to bring 'Melo to the Knicks, Fields would be a nice cog in a Knicks scoring machine that finds its way to the playoffs in 2011.
If the Knicks want to prove they are a big time team, Landry Fields will have to come up big — like he has all season — look for a hustle play, a dive for a loose ball, a clutch rebound, a defensive stop. Or, to scintillate the Garden faithful and doom the hearts of Celtics fans — a bone crushing three-pointer at a crucial moment.
Blocked Shots and Timely Defense
Did I forget to mention the most outstanding Knicks stat of the year? Yes, the New York Knicks are leading the league in blocked shots! If the Knicks want to win tonight they will have to turn those 6.76 blocks into Celtic turnovers. Why? Because New York is third in the NBA with 19.2 points per game off turnovers. If the Knicks want to win tonight, they have to continue this trend.