What Happened in 2010: Climate and Energy
Obama displayed high hopes in his State of the Union Address for the Senate to consider a climate change bill and invest in clean energy, but bipartisan efforts failed and a bill didn't gain traction, despite the worst environmental disaster in history—the BP oil spill. Meanwhile, the planet experienced a slew of natural disasters and the highest temperatures on record, setting off deadly wildfires in Russia and floods in Pakistan.
January 12
A devastating 7.0 magnitude earthquake rocks Haiti, killing 200,000 to 250,000 people, destroying the country's limited infrastructure and displacing 1.5 million Haitians.
Downtown Port au Prince following the earthquake. Source: Wikimedia Commons
---
January 27
Obama stresses the need to pass climate change legislation in his State of the Union address. He says investing in clean energy can help restart the American economy, and says he will make tough decisions about opening up offshore drilling.
---
March 21
President Obama ends a ban on oil and gas drilling on the Atlantic coast, allowing drilling as close as 50 miles to the Virginia shoreline. Analysts say it's part of a strategy to win support for a climate change bill and simultaneously reduce the nation's dependence on foreign oil imports.
---
April 5
A deadly explosion at Massey Energy's Upper Big Branch coal mine at Montcoal in Raleigh County, West Virginia, kills twenty-nine out of thirty-one miners. It's the country's worst mine disaster in forty years.
---
April 20
An explosion and fire on the BP-licensed Transocean drilling rig, Deepwater Horizon, in the Gulf of Mexico leads to the largest accidental oil spill in history, eventually releasing five million barrels into the Gulf. Eleven people on the rig die, 17 are injured.
Source: Wikimedia Commons
---
April 22
The Deepwater Horizon rig sinks to the bottom of the Gulf after burning for 36 hours. The following day, White House press secretary Robert Gibbs says: "I doubt this is the first accident that has happened and I doubt it will be the last," and a Homeland Security Department risk analysis says the incident "will not cause significant national economic impacts."

---
April 24
Sen. Lindsey Graham walks out of climate change talks, allegedly because Sen. Majority leader Harry Reid said he wanted to bring up an immigration bill in the Senate first. Graham had been working with Democratic Sen. John Kerry and Independent Sen. Joe Lieberman on a "tri-partisan" climate change bill. (Reid had also worked on immigration reform). Four days later, Reid says he'll push a climate change bill ahead of immigration, but it does not persuade Graham to reenter talks.
---
April 29
President Obama makes his first public comments on the BP spill. He pledges "every single available resource", including the US military, to contain the spreading spill, and also says BP is responsible for the cleanup. Louisiana declares a state of emergency as the oil slick approaches the coast.
BP begins using chemical dispersants to break up the oil, environmental groups worry about impact of toxins in the dispersants on wildlife.
Containment booms laid to protect the Louisiana coastline from the oil spill. Source: Wikimedia Commons
---
April 30
David Axelrod, the White House senior advisor, says no offshore drilling will be allowed in new areas until the cause of the Deepwater Horizon accident is established. Meanwhile, BP chairman Tony Hayward says the company will pay for all legitimate claims related to the spill and the total cost for the cleanup as oil reaches the Louisiana's coastline.
---
May 2
Officials close parts of Gulf of Mexico off to fishing, sending shocks through the gulf coast economy. BP starts to drill a relief well.
---
May 6
Conservationists warn of disaster as toxic pink oily seawater washes ashore on the Chandeleur Islands, an important nesting and breeding area for many bird species. Hayward tells the BBC that the blowout preventer owned by Transocean was at fault for the leak. BP, he said, "will be judged not on the basis of an accident that, you know, frankly was not our accident".
A support ship related to the collection of oil in the Gulf of Mexico. Source: Getty.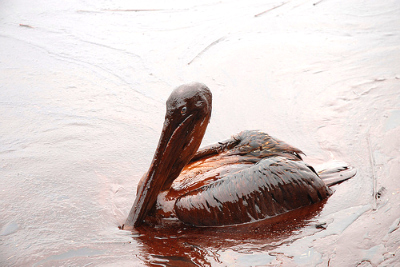 An oil drenched pelican in the Gulf of Mexico. Source: lagohsep/Flickr.

---
May 7
BP tries to use underwater robots to close valves leaking oil. It doesn't work.
---
May 11
At a hearing before the Senate committee on energy and natural resources, representatives of the three major companies involved in the spill—Transocean, BP, and Halliburton—blame each other for the accident. Obama decries the finger pointing as a "ridiculous spectacle."
---
May 12
Senators John Kerry (D-MA) and Joe Lieberman (D-CT) release a comprehensive climate change bill—without Sen. Graham—called the American Power Act.
---
May 16
BP's tube begins to draw oil to the surface. Meanwhile, the estimated size of the spill continues to get bigger. Now scientists put it at 20,000 - 100,000 barrels a day. Underwater footage of leak streams on the internet.
---
May 26
BP pumps thousands of barrels of mud into the well in an attempt to plug the oil leak. The process, known as top kill, fails to stop the flow. Two days later, BP attempts a "junk shot," a procedure that involves pumping materials like shredded tyres and golf balls into the well at high pressure. That doesn't work either. A leaked White House video shows Obama ending a briefing with the terse command: "Plug the damn hole."
---
May 30
Carol Browner, President Barack Obama's adviser on energy policy, says the spill is the worst environmental disaster in US history, worse even than the 1989 Exxon Valdez spill in Alaska.
BP's Hayward makes another faux-pas, saying, "There's no one who wants this over more than I do. I would like my life back."
BP CEO Tony Hayward appearing before Congress on June 17th. Source: Getty.
---
June 1
The U.S. launches a criminal investigation into the oil spill.
---
June 18
BP announces it will transfer day-to-day control of the oil spill response to Bob Dudley, who later replaces Hayward alltogether as CEO of BP on October 1.
---
July 22
Deadly Floods in Pakistan begin, ultimately killing an estimated 1,300 to 1,600 people, and leaving 2 million more homeless. There is a huge economic impact as agriculture and infrastructure are destroyed. UN Secretary Ban Ki-Moon calls it the worst disaster he has ever seen. The flooding eventually affects about one-fifth of the country—nearly 62,000 square miles. A number of scientists partially attribute the disaster to climate change, saying weather extremes are evidence of global warming.
Damage from floods in Pakistan. Source: Wikimedia Commons
---
July 29
Russia suffers from a devastating heat wave, the worst on record, with temperatures reaching a record of 100 degrees. Wildfires destroy entire villages. When the heat drove Russians to beaches in the beginning of the summer, 1,200 drowned. Scientists attribute the heat wave to global warming and Russian President Dmitri Medvedev calls for heads of state to combat climate change.
---
August 4
BP says the 'static kill' (pumping heavy drilling mud and cement into the well) to stop the oil leak has been successful, though the well is not sealed permanetly yet. The U.S. government announces that the majority of oil from the BP spill has been cleaned up.
Legislation introduced into the Senate by Democrats to cap oil spill compensation claims at $75 million is given up due to lack of support.
---
August 8
Torrential rains in China cause disastrous landslides, killing over 1,200. Officials had previously warned about the consequences of rapid hydro-development and tree-felling on erosion.
---
August 15
Barack Obama goes for a swim with his daughter in the Gulf of Mexico.
Source: Wikimedia Commons
---
September 19
Five months after the Deepwater Horizon explosion, BP completely seals off the ruptured well. BP's clean-up costs near $10 billion. This week, scientists say 4.4 million barrels of oil were released into the Gulf of Mexico during the nearly three months the well leaked.
---
October 12
The Obama administration's six-month moratorium on new deepwater drilling operations ends.
---
October 13
All 33 Chilean miners emerge in televised rescue after 69 days trapped 700 meters underground after a cave-in at the Copiapó mine.
---
November 1
Bjorn Lomborg's book, Smart Solutions to Climate Change, is published. In the book, the controversial Danish scientist, known as the "skeptical environmentalist," changes his tune slightly and advocates for $100 billion to be spent annually to combat global warming. If that is done under his terms, he thinks climate change could be mitigated by the end of the century.
---
November 2
Republicans, many of whom campaigned against a cap-and-trade bill, win a majority of seats in the House of Representatives.
---
November 25
Tar balls discovered in shrimping nets in the Gulf of Mexico, seven months after the oil spill.
---
November 30
Op-ed published by John Boehner and Mitch McConnell in Washington Post calling cap-and-trade a "national energy tax" and saying that Americans rejected this item on the "liberal wishlist" by changing the makeup of the U.S. House of Representatives on election day.
"It's time to choose struggling middle-class families and small businesses over the demands of the liberal base," they write. "It's time to get serious."
---
Dec 1
U.S. Secretary of the Interior, Ken Salazar, announces new five year offshore drilling ban in the eastern Gulf of Mexico and off the Atlantic coast.
---
December 2
Raging forest fires in Israel's Carmel Mountains kill 42 people, and 13,000 are forced to evacuate the area. It's the worst fire in Israel's history and spans 5000 hectares. Dr. Guy Pe'er, one of the authors of Israel's first report to the UN on climate change, predicted forest fires as an example of climate change effects in the country.
---
December 7
A $3 billion grant program for renewable energy industries launched by the Stimulus Package is attached to the text of the Senate tax bill for renewal. The American Wind Energy Association, a trade group, said that "tens of thousands of Americans could lose their jobs or not get called back from layoffs" if the incentive program is not extended.
---
Dec 10
NASA releases its monthly global temperature data, showing that the past 12 months have produced the highest land and ocean temperatures ever recorded. 2010 is poised to be the hottest year on record.
Source: NASA
UN Climate Change Conference in Cancun, Mexico ends with modest "Cancún Agreements" between almost 200 countries. The agreements set up a new annual fund of $100 billion in climate-related aid from wealthy nations to help poor countries deal with changes wrought by global warming, but leaves undecided how that fund will collect its money. The agreements also strengthen the emission reduction pledges set in Copenhagen in 2009, creates financial incentives to preserve oxygen producing tropical rainforests and share clean energy technology. The participating countries agree to wait another year before deciding whether or not to extend the Kyoto protocol, which Japan has threatened to oppose if the U.S. and China don't sign. Bolivia criticizes the Agreements for being too weak, but the conference is largely determined a success for re-energizing a process that had been on the brink of collapse.
Want to know what else happened in 2010?