Serving for the Season: Annie Novak's Kale and Stained Glass Potato Chips
Last Chance Foods asked five guests from 2010 to share the recipes they'll be serving to their families over the holidays.
Annie Novak is the founder and director of Growing Chefs, a field-to-fork food education program. She is also a farmer and the co-founder of the Eagle Street Rooftop Farm in Greenpoint, Brooklyn, as well as Children's Gardening Program coordinator for the New York Botanical Gardens. A regular on Last Chance Foods, Novak spoke recently on the show about beekeeping and local honey.
Here are Novak's kid-friendly holiday recipes:
Stained Glass Potato Chips These potato chips are baked, rather than fried, and a great sneaky way to insert vitamin-rich and underused parsley into a meal. I prefer using flat leaf Italian parsley, which can also easily be grown indoors during winter months as long as it has full sun or a growing light. Potatoes are too often mashed and peeled, when in fact their skins are delightfully nutrient dense. Kids love this recipe, and I love that it teaches them fine knife skills (or how to use a kitchen tool like a mandolin) as well as how to carefully assemble the parts of a meal. Why would you ever eat potato chips out of a bag ever again?!
3-4 large local white-fleshed potatoes (we used Kennebeck)
½ cup parsley leaves
2 tablespoons butter or vegetable oil.
salt, to taste
Preheat oven to 375 degrees F. Wash and slice potatoes into rounds thin enough as to be translucent. Butter one side. Lay buttered side down on baking tray. Add one leaf of parsley on center of potato slice. Sandwich with another potato slice, buttered on one side. Bake for approximately 15 minutes, checking for burning. Serve immediately.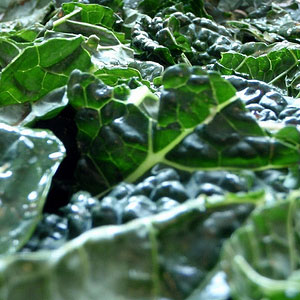 Kale Chips Kale is a great local food for New York, particularly in the fall when the first few frosts help kale hold its sugars in its leaves. Lacinato, or dinosaur kale, works best for this recipe, as well as the relatively flat-leaved Red Russian. I've had great success getting kids to eat this crispy treat, particularly after a cold day of tramping around harvesting the kale from the field. Nothing makes a better popcorn substitute, and between the scissor-based choppin' and the easy, timely baking, it's one of the best simple, kid-friendly recipes for an after school snack. Go easy on the salt, since vinegar does the trick for flavor—and you don't want to hide the sweetness of a good December kale!
1 bunch kale leaves, washed and de-stemmed
1 tablespoon apple cider vinegar
1 tablespoon olive oil
Sea salt, to taste
Preheat oven to 400 degrees F. Using scissors, a sharp knife, or by hand, shred kale leaves into 1" wide chips or ribbons. In a large bowl, toss kale with apple cider vinegar, olive oil, and salt to taste. Spread evenly on a lightly greased baking tray, in batches such that the kale is only one layer deep. Bake for approximately ten minutes, checking on kale halfway for burning. Using a wooden spoon, toss on tray to ensure all sides get cooked. Delicious served fresh or within a few days.