The Northeast Breadbasket
There are few guarantees in life, but here's one of them: Pick up a muffin or baguette at a New York City farmers market and at least 15 percent of it will be made with locally produced flour. That particular rule, which applies to all baked goods sold at greenmarkets, was instituted earlier this year by GrowNYC, the organization that oversees New York City's weekly farmers markets.
June Russell, GrowNYC's manager of farm inspections and strategic development, says that it took several years to convince area farmers and bakers to support growing and using wheat in the Northeast. "To see [wheat] in the market, it really does lend itself to a commodities system that is much more efficient than small growers can do," she admits.
The idea that the Northeast cannot grow good grain is false, Russell (pictured below) says, adding that Western New York produces a significant amount of buckwheat. The regulated inclusion of locally grown and milled flour not only encourages farmers to diversify their crops, but also works hand-in-hand with GrowNYC's mission to represent regional agriculture. "There has been a big effort to find out sort of hard wheat we can grow," she says. In particular, this area is more conducive to growing soft wheat, which is higher in starch and lower in gluten when compared to hard wheat. Soft wheat flour is used primarily to bake cakes and pastries, since it doesn't hold together as well as hard wheat flour.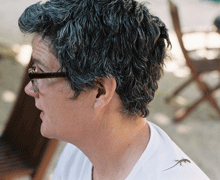 Freshly ground flour still has fats and oils, so it bakes differently than supermarket flour, which does not. "Fresh flour has a shelf life and once you grind it, it's maybe good for two months or so, depending on the conditions you keep it in," explains Russell.
However, the grains that are being cultivated in the New York region go beyond wheat for flour. "In terms of food grains that we could see in the Northeast, emmer is one of the grains that is doing really well," says Russell. The grain, which is known as farro when grown in Italy, can be eaten as a whole grain or ground to make pasta.
GrowNYC recommends this recipe for creamy emmer salad with shaved fennel, beets and radishes.
Creamy Emmer Salad with Shaved Fennel, Beets and Radishes
Recipe by Louisa Shafia, author of Lucid Food: Cooking for an Eco-Conscious Life

Emmer, also known as farro, is one of the "ancient grains" that was first domesticated in the Fertile Crescent. Emmer has a plump grain that is longer than wheat grains. It is the main ancestor of durum wheat, and like durum, emmer is a hard wheat well suited to making pastas. In fact, it never lost popularity in Italy where it is called farro. The grain is lower in gluten than wheat but higher in protein and fiber.

Emmer flour makes a tasty, bold-flavored bread that is heavier than wheat. It is believed that matzoh was originally made with emmer. The grains may also be cracked or cooked whole, as in the recipe here. Emmer's chewy texture holds up even after long cooking. Fresh emmer will not need to be soaked, but it will reduce your cooking time.

Serves 4
Ingredients
1 C Emmer, soaked overnight (or Spelt Berries)
5 Tbs crème fraîche
2 Tbs olive oil
2 Tbs apple cider vinegar
1 garlic clove, minced
¼ C fresh dill, minced
¼ C fresh chives, minced (or scallions, green part only)
1 beet, cut in half (chioggia, candy striped or your favorite variety)
1 fennel bulb cut in half, core removed
6 radishes
Salt and freshly ground black pepper

1. Place the emmer in a small saucepan with 2-1/2 C. water and 1/2 tsp salt and bring it to a boil. Reduce the heat and simmer, covered, for 1 hour. Remove from the heat and cool to room temperature. Drain excess cooking water.

2. In a large bowl, whisk together the crème fraîche, olive oil, vinegar, garlic, dill, and chives. Salt to taste.

3. Using a mandolin or a very sharp knife, thinly shave the beets, fennel, and radishes. Add the shaved vegetables and the emmer to the dressing, and toss to coat thoroughly. Taste and season with salt and a generous amount of pepper.