U.S. Education Secretary Gives Support to Black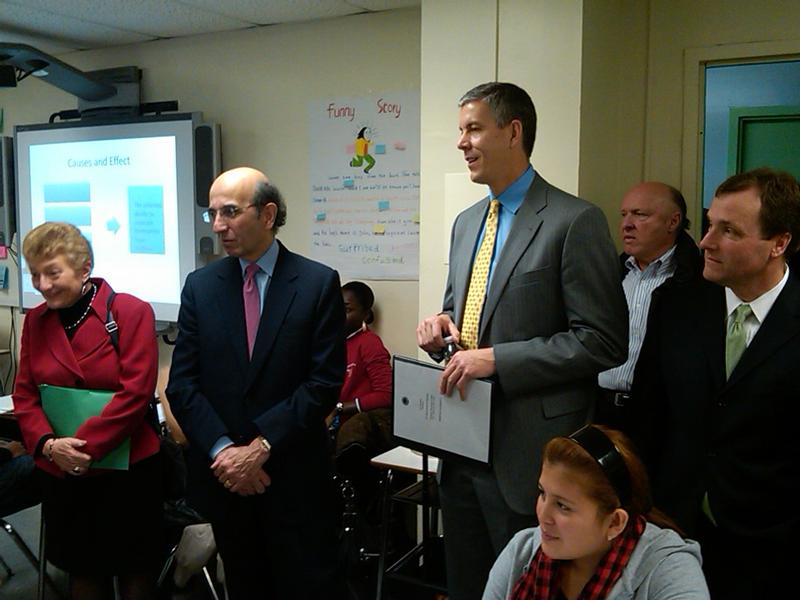 U.S. Education Secretary Arne Duncan is scheduled to meet with incoming schools chancellor Cathie Black Thursday.
Duncan, calling himself a "huge fan of Joel Klein," said the outgoing Chancellor had done "an amazing job" and that Black's challenge is to take public education to the next level. He said he would do whatever he could to support her.
Asked about Mayor Bloomberg's choice of such an unconventional chancellor from the world of publishing, who has no background in either the public sector or education, Duncan said there would be challenges regardless of who the mayor chose.
"Anyone coming to this job has a huge learning curve," said Duncan, who who previously ran the Chicago public schools. "In Chicago, I worked for the previous superintendent before I got the job for two and a half years. I sort-of thought I knew it. I got there, I had no idea how big my learning curve was. So she, like anyone else, has a learning curve."
Two lawsuits have been filed against the state's education commissioner for granting the Hearst Magazines chair a waiver to take over as chancellor in January. One was brought by a Park Slope parent and the second by civil rights lawyer Norman Siegel and State Assemblyman Hakeem Jeffries, who claim Black shouldn't have been approved based on hiring a Chief Academic Officer because her own credentials should have been sufficent.
Duncan did not address the lawsuits, but he called Black "smart" and "committed" and said he thinks she has a good team. In Chicago, Duncan was paired with an educator when he was C.E.O. of the schools. Black's Chief Academic Officer will be Shael Polakow-Suransky, who is currently a deputy chancellor. Duncan said he relied on educators and leaders from the business community to build a diverse team of supporters with a diverse set of skills.
The Education Secretary appeared at an alternative education center on West 35th Street this morning with Mayor Michael Bloomberg and Klein to announce a new pilot program to improve the GED exam, so adult learners are better prepared for the workforce. The General Equivalency Diploma, as it's known, was first developed for returning World War II veterans.

Cami Anderson, who runs the city's District 79 program for alternative schools, says it the current GED doesn't do a good job of preparing adults for work or for college, and that the new curriculum will focus more on building math, reading and other skills, "such as, being able to conduct an interview effectively, write a resume, show dogged determination when you get an obstacle in your way."
The pilot program was created after the Community Service Society released a report in 2009 finding New York State's GED pass rate is 48th in the nation. Only 60 percent of participants passed the test in 2007, with New York City having a pass rate of 47.5 percent. Only 7 percent of the GED-eligible population ends up in preparation programs each year and just half that figure take the test. The Communitiy Service Society also found that in the current recession, those with less than a high school education lost jobs at nearly twice the rate of high school graduates and more than 10 times the rate of college graduates. More than one million city adults don't have a high school diploma or its equivalent.

The city received a $3 million grant from the MetLife Foundation and the American Council on Education to improve the test and its curriculum starting next year. The city serves 30,000 young people and adults each year interested in obtaining a GED credential, making its sheer size attractive to educators interested in trying improvements. Duncan, Klein and Bloomberg toured a couple of classrooms and met young adults preparing to take the exam. Bloomberg told one woman he never considered himself the smartest student but he was the hardest worker.