This fall has seen a new translation from Russian to English of Boris Pasternak's "Doctor Zhivago."   The art of translation has a lot to do with give and take --between two languages, and in this case, two translators.  Here is the next Fishko Files....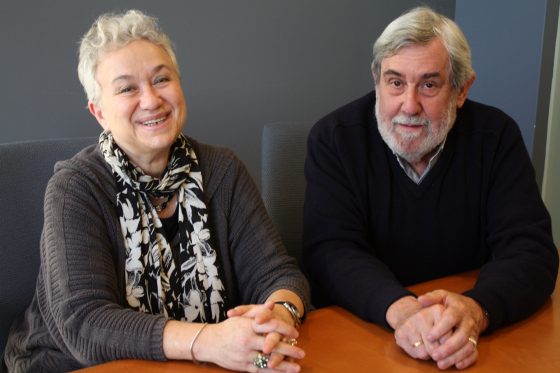 Larissa Volokhonsky & Richard Pevear; Credit: Michael Lionstar
Richard Pevear and Larissa Volokhonsky are a husband-and-wife translating team who have been working together since their 1990 edition of Dostoyevsky's The Brother's Karamazov. They've gone on to translate works by Gogol, Chekhov and Tolstoy. Pevear and Volokhonsky's new English translation of Boris Pasternak's Doctor Zhivago is only the second English version of the book ever published. The first English edition was produced under much political distress, in a hurried three months in 1958. 
Since their first translation together, Pevear and Volokhonsky's process has remained the same: Volokhonsky, a native Russian speaker, produces a word-by-word, phrase-by-phrase translation of the work into English. Pevear, a native English speaker, then works with Volokhonsky's translation, paying careful attention to the peculiarities of English nuance and style.
Listen to Richard Pevear and Larissa Volokhonsky's reading of a poem by Zhivago, the physician/poet in the novel, "A Winter Night." Volokhonsky reads the Russian original. Pevear reads their English translation.
Larissa Volokhonsky reads "A Winter Night."
Richard Pevear reads "A Winter Night."
For more on Doctor Zhivago...
See Pevear and Volokhonsky's translation of Doctor Zhivago, here.
A 45th anniversary edition of the Doctor Zhivago film was released in May, 2010. To see the edition, click here.
For more from Fishko Files...
--> Listen to War and Peace, which also features Richard Pevear and Larissa Volokhonsky
WNYC Production Credits
Mix Engineer: Wayne Shulmister
Assistant Producer: Laura Mayer
WNYC Newsroom Editor: Karen Frillmann