NY Arts Icons Awarded Kennedy Center Honors
Two New York arts icons were among the honorees this year at the Kennedy Center's annual Honors Gala in Washington D.C. Musical theater composer Jerry Herman and choreographer Bill T. Jones, whose work includes the Broadway hit "Fela!", were honored for lifetime achievements in the arts, alongside Paul McCartney, Oprah Winfrey, and country singer Merle Haggard.
The Kennedy Center for the Performing Arts—Washington's answer to Lincoln Center—has been giving out honors since 1978. Each year, the center makes much ado about the ceremony, putting together a star-studded, week-long event filled with celebrity tributes and government officials. Awardees are treated to loving monologues by famous friends and performances of their work. The performance is taped but never broadcast live: CBS will run footage of the event on December 28.
At a pre-gala reception at the White House on Sunday, President Obama weighed in on the awardees. "Bill [T. Jones] has earned widespread acclaim and artistic success in the hyper-competitive world of modern dance—all while battling poverty, homophobia, and racism," he said. "His unique performances have always been provocative—challenging audiences to confront important issues in a way that is at once captivating, agitating and extremely personal."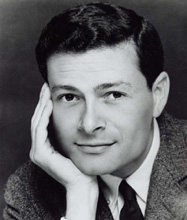 Jones was raised in upstate New York, attended college at State University of New York (SUNY)-Binghamton, and founded the Bill T. Jones/Arnie Zane dance company in 1982. He's no stranger to lavish awards: Jones won a Tony for his work in the sexually charged rock musical "Spring Awakening", and a $500,000 MacArthur "genius award" in 1994.
Jerry Herman, 79, (pictured right) is a Jersey City native who rose to Broadway fame as the composer and lyricist for "Hello, Dolly" and "La Cage aux Folles." Self-taught and blessed with the ability to learn anything by ear, Herman quickly rose to be one of New York's most in-demand showtune songwriters, earning the distinction of being the only composer to have three musicals on Broadway simultaneously.
Gala attendees included Willie Nelson, Julia Roberts, Sidney Poitier and James Taylor, according to reports from The New York Times.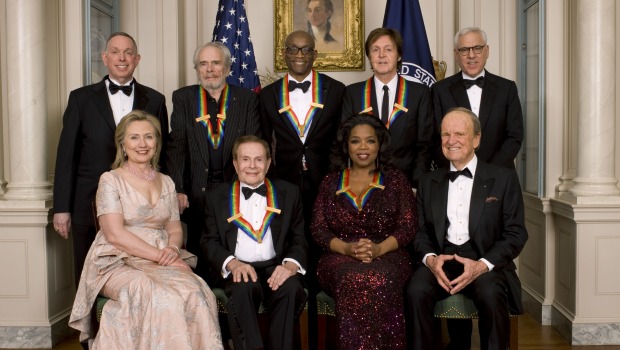 Click on the links below to see WNYC's past coverage of choreographer Bill T. Jones.