Roll Over Beethoven: 'Ode to Joy' Remixes Come to MoMA
On Wednesday, artists Jennifer Allora and Guillermo Calzadilla unveil a rather unusual piece at the Museum of Modern Art (MoMA): "Stop, Repair, Prepare: Variations on 'Ode to Joy' for a Prepared Piano." In the piece, five pianists—Terezija Cukrov, Mia Elezovic, Amir Khosrowpour, Evan Shinners and Sun Jun—climb into the middle of a Bechstein piano ("prepared" with a hole carved out of its center) and play their own versions of Ludvig von Beethoven's fourth movement of his Symphony No. 9, also known as "Ode to Joy" when paired with the German poet Francis Schiller's poetry. Pianists play upside down and backwards while pushing the piano around MoMA's second floor atrium.
Grand piano movement and musician artistry aside, many people have asked Allora and Calzadilla why they chose Schiller's 1785 ode set to Beethoven's Ninth. "That piece of music represents...national pride and brotherhood," Calzadilla, 39, told me in his lilting Cuban accent on Friday from Miami Beach where he and Allora, 36, were checking out the scene at one of the country's biggest arts trade fairs. "We thought it could be interesting to put a hole through this piece of music and see how this silence in its center affects the piece...Two octaves of the piano don't work and it's through this instrument that this music is being played."
Allora and Calzadilla's piece, on view at MoMA for a month, is a good introduction to this artistic duo who may soon become a collective household name. In September, the U.S. state department announced the two had been chosen to represent the U.S. in next year's Venice Biennale (La Biennale de Venezia), the world's preeminent multi-disciplinary arts festival. The state department's decision marked the first time a pair of artists had been chosen to curate the American pavilion. "The U.S. has focused on individual artists for 10 or 20 years, and maybe groups before that," said Lisa Freiman, the senior curator and chair of the contemporary art department at the Indianapolis Museum of Art, which organizes the American presence at the Venice Biennale.
It's also the first time artists living and working in Puerto Rico have been chosen to represent the U.S. Although Calzadilla was born in Havana and Allora is a native of Philadelphia, the two have called Puerto Rico home for years. The pair will work up six pieces for the Biennale, including one performance piece.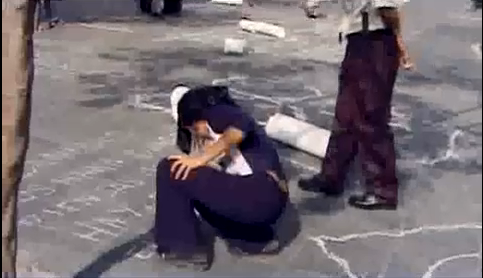 Freiman, who is the U.S. Commissioner for the Venice Biennale, added that sending Allora and Calzadilla abroad on behalf of the U.S. is a surprising, but exciting, choice given the pair's fairly political work. "We are living in a post 9/11 age...where the U.S. government has taken extreme control over privacy and speech," Freiman said. "I think for the U.S. state department's choice to select young artists who are politically engaged who look at international geopolitics through their work is a bold move."
Making political work has been a constant in Allora and Calzadilla's art. In their 2002 "Chalk" project (above left), the artists left giant pieces of the white porous rock in public squares in Lima, Peru. Passersby scrawled thoughts, drawings and political messages onto the ground. Their "Under Discussion" video piece, made in 2005, (below right) depicts a Puerto Rican activist steering an upside-down conference table-turned-boat in the waters around Vieques, that former island testing ground of the U.S. Navy. In the duo's "Ode to Joy" piece, which was on view at New York's Gladstone Gallery in 2008, Allora and Calzadilla chose music to "put a hole through" that's been used by Hitler's Third Reich, the Chinese Cultural Revolution, the Shining Path in Peru and Rhodesia's white supremacy movement. Beethoven's piece was also played at the fall of the Berlin Wall and is the national anthem of the European Union.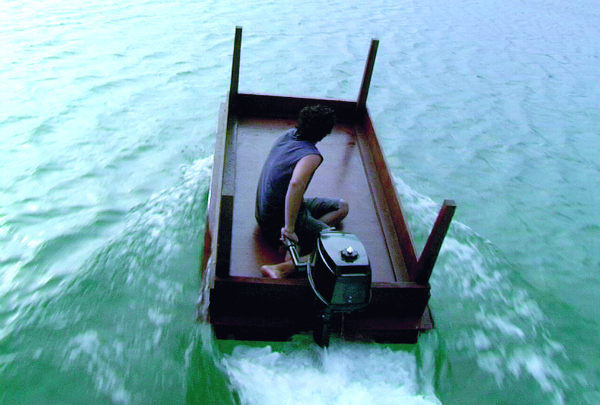 "It's come to occupy a kind of a niche position both as...almost a potentially kitsch part of popular culture when it refers to high culture...but also this kind of humanistic centerpiece of a lot of positive thoughts or communities coming together," said Michael Beckerman, the chair of New York University's music department.
He added that Beethoven's Symphony No. 9, which a then deaf Beethoven completed in 1824, is also one of the world's most recognizable pieces. "The number of songs that are collectively known by extremely large groups of people are rather amazingly small," Beckerman said from his NYU office. "The 'Ode to Joy' is a piece that most people recognize. It seems to have in its simplicity a kind of international sheen to it."
Beethoven's piece was an anomaly for its time: it features a chorus at the end of the symphony. "Anything that these performance artists have done to the piano, Beethoven has already done to his tune," Beckerman added in reference to Allora and Calzadilla's disemboweled piano piece.
Research into which piece to use for "Stop, Repair, Prepare: Variations on 'Ode to Joy' for a Prepared Piano" began five years ago for Allora and Calzadilla. The pair started with a drawing and then began looking into how military conflicts had influenced musical aesthetics. "We became very interested in the 'Alla Turca' or the musical style prominent in the 18th and 19th centuries," Allora said from Miami. "That influenced classical composers such as Beethoven, Mozart and Haydn who were interested in imitating the Turkish Janissary bands."
They chose Beethoven's Ninth because it had a Turkish march in it. "Turkey is not part of the European Union but the 'Ode to Joy' is its national anthem, so we thought there was an interesting relationship there," Allora added.
Museums and art historians say MoMA's choice to create a space for Allora and Calzadilla's piece is something of a national trend to show more performance art. That's something that RoseLee Goldberg, a performance art historian and the director of the arts group Performa, is in favor of. "People have real opinions, they can respond," Goldberg said. "If a person's looking at a Picasso or a Cy Twombly or another more abstract or complex part of art history...they feel really removed from the work. Because they feel 'If i don't know the art history, how can I possibly understand that?'"
See what you think of Allora and Calzadilla's "Stop, Repair, Prepare: Variations on "Ode to Joy" for a Prepared Piano," which can be heard hourly beginning at 11:30 A.M. on December 8 and ending January 10. Plus, check out images of the project below.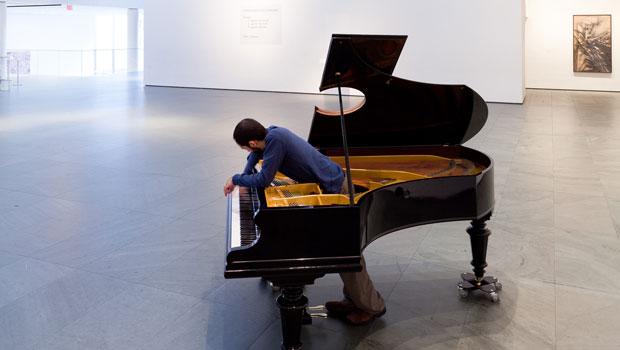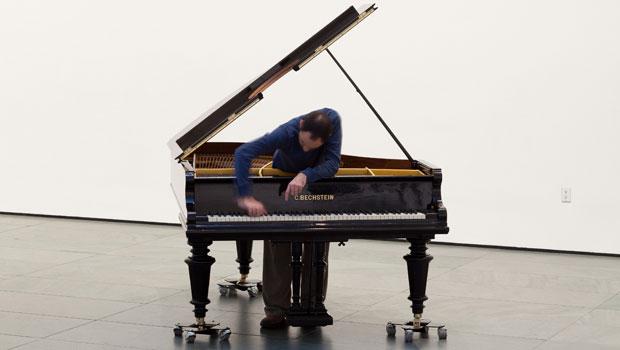 of