Three to See: Catch These Plays Closing This Week
As the holiday mayhem-o-thon arrives in full force, these three plays are a sure bet to escape the season of hectic hyperspeed (and joy and love).
Spirit Control The job title "air traffic controller" lacks a certain...how do you say it...cool factor. But that doesn't mean it isn't worthy of generous and emotional dramatic exploration, which it receives in Beau Willimon's taughtly written "Spirit Control." In the play, Jeremy Sisto plays Adam Wyatt, an air traffic controller whose life is bucked into chaos when he unsuccessfully prevents an accident at the Spirit of St. Louis Airport where he works. Sisto's portrayal of a tortured man trying to keep his life together as he is haunted by the accident reaches unflinchingly into the complex emotions of trauma; the anguish, distress and unbridled anger in Willimon's writing come to vivid life in Sisto's performance. As Adam's chipper wife and straight-laced coworker, Maggie Lacey and Brian Hutchison absolutely ace the innately Midwestern breed of upbeat politeness in the face of conflict. Willimon's days of flying with his dad growing up in Missouri aren't far behind him—he's 33—and his love affair with the language of aviation rings true throughout the play. "In our everyday lives we tend to misrepresent our feelings or veil them," Willimon says. "What's incredible about the language of aviation is that everything you say has a direct and clear meaning, it's a language of action." And so, the action of aviation becomes a world of family drama that unfolds with the kind of layered tension that plays out at dinner tables and in living rooms across the U.S. As such, "Spirit Control" is drama at its height. Here is when you can still see the play: The Manhattan Theatre Club on 12/3 at 8 P.M., and on 12/4 and 12/5 at 2 P.M. and 8 P.M.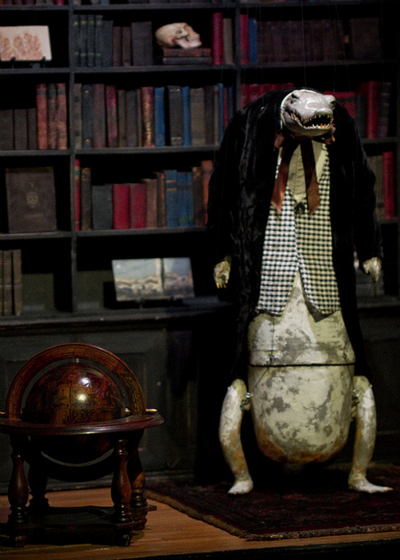 The Fortune Teller Forget all of those store-front psychics with the neon signs. "The Fortune Teller" won't tell you your future, but it's a much better use of your time. The gorgeous hand-crafted marionette show with puppets created by Erik Sanko and sets by Jessica Grindstaff captures a creepy 19th-century Romantic sensibility better than the phrase "it was a dark and stormy night." (Which is saying something.) Grindstaff and Sanko share a perfectionist's vision, and it shows. All elements work together to float the audience into the creepy world of the puppets. "This show is kind of like our baby," Grindstaff says. "Every time it plays I'm being a total perfectionist and judging it." The story is allegorical: seven characters come to the house of a deceased millionaire expecting to inherit his money and instead have their fortunes read. One by one, the fortune teller foresees the death of each of the puppets, which represent the seven deadly sins. As each character dies—the lazy blacksmith is decapitated by an axe, the greedy banker is trapped in his bank vault, etc.—the expressively moved marionettes interact with the set to the tune of music composed by Sanko and Danny Elfman. If that's not enough, there is a heartwarming back story to the production: Grindstaff and Sanko recently celebrated their 10th year of marriage, and the entire show was created with the help of a Henson grant and the free labor of the couple's friends and collaborators. Here's when you can still see the play: The HERE Arts Center on 12/3 at 7 P.M. and on 12/4 at 7 P.M. and 10:30 P.M.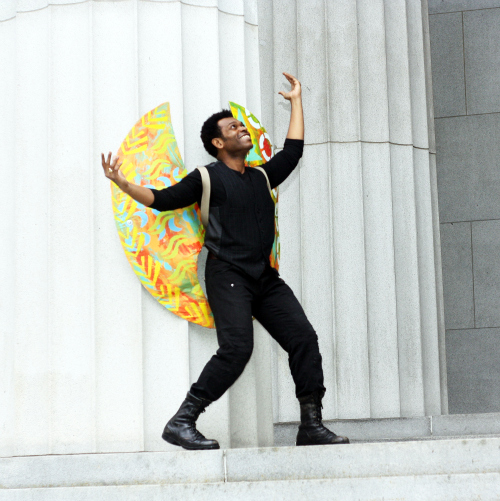 Strangers and Other Angels This is a city of aerial acrobatics on subways, of tightropes strung between skyscrapers and of endless performance (sometimes not intentional) in the streets, parks and underground byways of the New York multitudes. It is rare, though, to see a performance capable of capturing the essence of all these things, of song, dance and drama on the city's streets and on the move. "Strangers and Other Angels" reimagines the medieval theatrical tradition of mystery and passion plays. These plays were performed in the eensy streets and alleys of medieval Europe, where townspeople would accompany a troupe of actors, dancers and musicians on their journeys through the town (a whole different story from the mariachi band or drum circle that accompanies your subway ride). In "Strangers and Other Angels," professional and Tony-Award-winning actors along with children, step dance crews, a brass trio and (of course) the audience will meander from Sakura Park in Morningside Heights to the Union Theological Seminary. During the traipse around town, the players perform a 21st-century update to the medieval "Second Sheppard's Play" with parts in Patois, step dancing and a multi-culty embrace of the city it uses as its stage. Paul Vasile, the show's musical director, feels that the show represents the New York community by including it. "Folks are coming in from Harlem, from the Bronx—it's representing the best of New York in every way shape and form," he says. "It's bringing New York's diversity around this piece of theater." What's best is that like the performances you see on the streets and in the subway, this too is free. Here's when you can still see the play: Starting at Sakura Park on 12/4 at 3 P.M.