Courting Cuomo: How the AG Candidates Tried, and Failed, to Woo Andrew Cuomo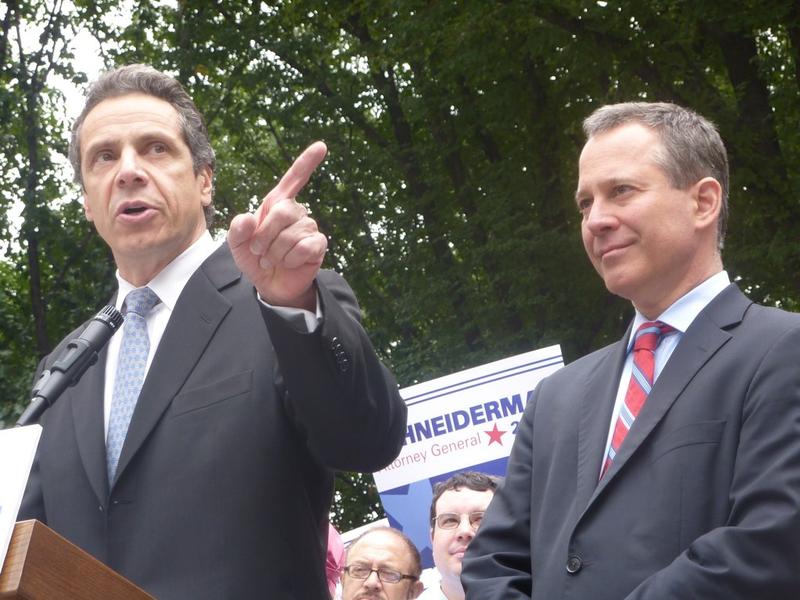 Andrew Cuomo could have gotten the attorney general candidate he wanted, if only he had endorsed her.
That's the lesson from the post-election roundtable hosted by the New School yesterday, where aides to the six attorney general campaigns discussed their campaigns.
Blake Zeff, who worked on the winning campaign of Eric Schneiderman said they had internal polling numbers showing what the impact of a Cuomo endorsement would be on the race. "I would say somewhat hyperbolically, the poll showed us specifically that if Kathleen Rice got the Cuomo endorsement that we were done," he said. "She had so many advantages to begin with, the money not being the least, that [endorsement] would be nearly fatal to us."
Schneiderman aides said they never considered themselves in the running for Cuomo's endorsement, since Schneiderman was a member of the deeply unpopular state legislature. So the goal, Schneidmerman aides said, was denying the endorsement of the popular Cuomo from going to their chief rival.
"How do we stop Andrew Cuomo from endorsing Kathleen Rice?" was the question that "really informed a ton of what we did," said Zeff.
How'd they do that?
The main point was discussing the issue of Rockefeller Drug Law reform, something Cuomo latched onto years earlier. Schneiderman had also worked on the issue, and his chief rival, Rice, had a record of benign silence on the issue at best. Schneiderman hammered away on the issue of Rockefeller Drug Laws, in order to "affect the dynamics of the race so it would be harder for him [Cuomo] to endorse her," said Zeff.
In the five-way primary race to replace him as attorney general, Cuomo was perceived to have wanted one candidate in particular to replace him. 
By May, a New York Times story read, "aides and allies of Mr. Cuomo have moved quietly and methodically to bolster Kathleen M. Rice."
Rice, the Nassau County district attorney, had no obvious ties to the deeply unpopular state government in Albany, was the only woman in the race, and represented suburban, home-owning New Yorkers whose support Cuomo seemed to crave. The other candidates were considered not viable, having no prior political experience, or, too much political experience, being current state legislators in a year when voters wanted to elect "outsiders."
Evidence of Cuomo's support, critics said, were the early endorsements Rice received from Cuomo allies like Stuart Appelbaum of the retail union and Vito Lopez, the Brooklyn Democratic County Leader.
But Phiilips said the perception did not match up with reality.
"From a staff level, there was very little if not, no communication" between Rice and Cuomo campaign aides. 
But Phillips said they were happy to be considered the front-runner in the race, since the race was only about five months long. (Active campaigning was delayed until Cuomo, the current AG, formally announced his intention to run for governor.)
Cuomo's endorsement was as coveted by all campaigns as it was out of reach. 
Richard Brodsky, like Schneiderman, was a member of the state legislature. He had spent nearly two decades in Albany, which, in the eyes of many, was a disqualifying factor. Private attorney Sean Coffey and former gubernatorial aide Eric Dinallo each offered compelling narratives and deeper-than-expected war chests for political neophytes. But both failed to demonstrate their ability to win votes. 
Eddie Castell, a consultant on Coffey's campaign, explained why, no matter how good any of the candidates were, no one was good enough to earn Cuomo's nod. "He was only going to endorse someone that was going to win," Castell speculated of Cuomo. There was "no upside in someone who was going to be the nominee for governor of the state to take a risk before he's in the general election with a candidate and have his first, in a sense, very big political act be a gamble that he loses on."
Josh Brumberger, who worked on Dinallo's campaign, had another reason why he thought his candidate would never get the much sought-after endorsement.
"It turned out we both, Andrew Cuomo and Eric Dinallo, are Italian-Americans, so we had to forgo that endorsement."
After the primary, Cuomo endorsed Schneiderman, noting they knew each for decades — back when they both worked on the elder Cuomo's gubernatorial race in the early 1980s.