City Hall Christmas Tree Lighting, 1939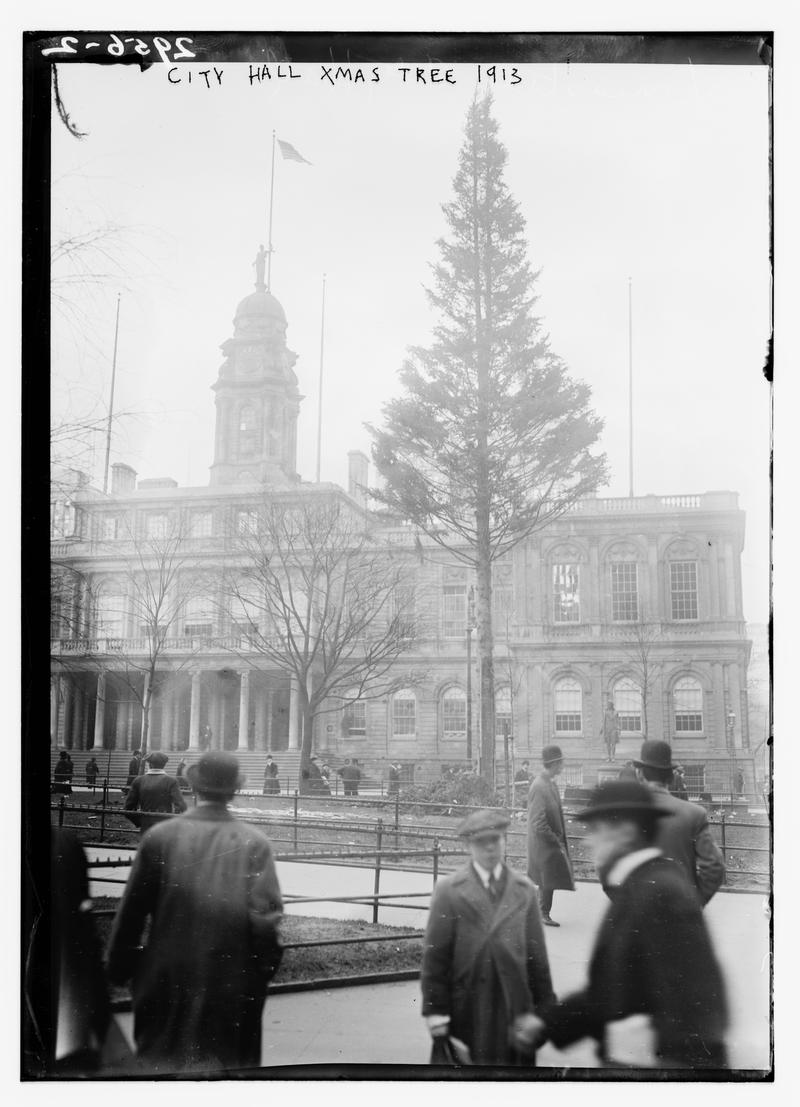 On the occasion of the annual lighting of the Christmas tree at Rockefeller Center, we present to you the first of two vintage radio broadcasts we've found in the archives of similar ceremonies in the city.
Though the New York City Parks Commission began the tradition of the Municipal Christmas Tree Ceremony as early as 1913 (see photo), it wasn't until 1934, when Robert Moses was made Parks Commissioner by Mayor Fiorello La Guardia, that the tradition was expanded into a citywide celebration with fourteen 50-foot Norway Spruce trees across all five boroughs.
According to the New York City Department of Parks and Recreation, during the 1934 ceremony "The Park Department Band opened the program, followed by a 75–person choir from the Concert Division of the Department of Public Welfare. The festivities were broadcast on the city's WNYC radio station and carried on other stations as far west as Missouri."
(We're still hoping to find this first broadcast as we transfer audio.)

Each year, the celebration continued to expand in both location and flora. By 1939, 22 trees were lit simultaneously throughout the city by one of Mayor La Guardia's children, at the flip of a switch, thanks to a scheme developed by the Parks Department.

The recording of this broadcast features Mayor LaGuardia's speech from the steps of City Hall and was broadcast live by WNYC and played in real-time at each of the 22 sites.

We are especially fond of this recording because it features performances by the city's Police Department Glee Club, whose talent, we think, dwarfs that of the performers at this year's Rockefeller Center tree lighting ceremony. If glee clubs aren't really your style, maybe you'll enjoy the vocal stylings of the Sacred Heart Boys Choir.

Though the Rockefeller Center Christmas tree (which was first erected in 1931) has gained increasing notoriety, the Parks Department Christmas tree lighting tradition continues today (now with the inclusion of menorahs) throughout parks in the five boroughs.

Moreover, for the last 16 years the New York Botanical Garden has hosted an annual Holiday Train Show. Included in the show are 140 scale models of New York City landmarks, constructed from dried plants.
Missed the Rockefeller Center extravaganza this week? Find another way to celebrate the holidays with NYC's Parks Department holiday calendar.
Audio courtesy NYC Municipal Archives collection.