What To Give (And Not To Give): NY Public Radio Hosts Weigh In
Still stumped on what to give this year? We asked a few of our favorite New York Public Radio personalities for their suggestions.
What present will you be giving this year?
"My extended family and I are doing 'Secret Santa' this year, so I'm only on the hook for one present. And truth is, I haven't given it any thought. Maybe some Jacques Torres hot chocolate? Always a fail-safe option."—Radiolab Host Jad Abumrad
"My whole family is adopting a kid through the JCPenney Adopt-an-Angel program. I'm also highly recommending this list since it's a realistic guide to things that people who cook can really use, but are pretty inexpensive."—The Takeaway Host Celeste Headlee
"Someone very special to me is getting the first bottling from the vineyard of a friend in Napa Valley. Several friends are getting DVDs and still others will get pastries from my kitchen. Some will get a mix of all three."—WNYC/WQXR News Host Kerry Nolan
"I am giving 'Brother West: Living and Loving Out Loud, A Memoir' by Cornell West. I respect his intellect and activism and I wanted to learn about him in his own words. Also, 'Hazel Scott: The Pioneering Journey of a Jazz Pianist from Cafe Society to Hollywood to HUAC' by Karen Chilton. She is somebody who grew up in my neighborhood, in Harlem, and invented this style of music called 'swinging the classics.' It's written really well and it's an easy read."—WQXR Music Host Terrance McKnight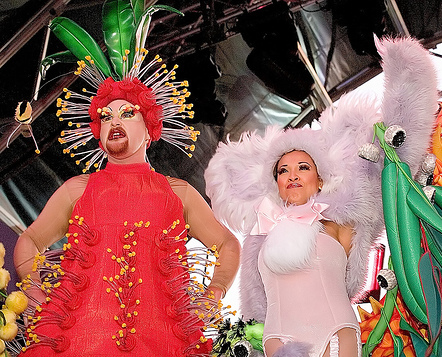 "I suggest people give the gift of theater, particularly early performances of new shows. It's always being the first on the block to see if something is great (or dreadful)! Look for tickets to "Priscilla Queen of the Desert The Musical" (pictured right), "How to Succeed in Business Without Really Trying" with Daniel Radcliffe, the new musical by Alan Menken "Sister Act", or "The Book of Mormon" from the guys behind South Park."—WQXR Music Host Elliott Forrest
"There have been some extra special events in my life this year, so this Christmas will be about giving photographs. Some will be beautifully framed, some will be in albums and some will be in magnetic photo pockets. The magnetic pockets are fabulous for the refrigerator and do a wonderful job of keeping photos dry and clean."—WQXR Music Host Midge Woolsey

Anything released in 2010 you're giving this year?
"Most gifted book? Salman Rushdie's 'Luka and the Fire of Life' works for both adults and kids. And as soon as I can buy the movie The Other Guys on DVD, that will be in everyone's stocking."—The Takeaway Host Celeste Headlee
"'Just Kids' by Patti Smith is one of my favorite books this year. It's written so elegantly and it really captures a moment in New York. She creates this world that we all wanted to live in. And while it's more Classic Rock than Classical, the astonishing time machine that is Bruce Springsteen's "Darkness on The Edge of Town" box set will be under a couple of Christmas trees this year."—WNYC/WQXR News Host Kerry Nolan
"'Listen to This' by Alex Ross. We're both trying to break down barriers that keep people away from classical music and keep the music away from its audience."—WQXR Music Host Terrance McKnight 
"Rebecca Skloot's 'The Immortal Life of Henrietta Lacks' will probably find its way to a few folks. Fabulous book. Other than that, I plan to give joy—in little baggies."—Radiolab Host Jad Abumrad
"Does it count if it was a gift for myself? I bought the Doonesbury 40th anniversary retrospective ('40: A Doonesbury Retrospective') and would recommend it to anyone with the upper body strength to lift it. It's the best, most fun way I can imagine to recall or relearn the last few decades of American history and culture."—WNYC/WQXR News Host Isaac-Davy Aaronson
What wouldn't you give?
"I would never give perfume or artwork unless I knew precisely what the person wanted. Both things are far too personal to give as random gifts."—WQXR Music Host Midge Woolsey
"I don't rule out anything except religious texts."—The Takeaway Host Celeste Headlee
"A lump of coal. Or bad chocolate."—WNYC/WQXR News Host Kerry Nolan