After Citizens United, Political and Legal Strategies Still Evolving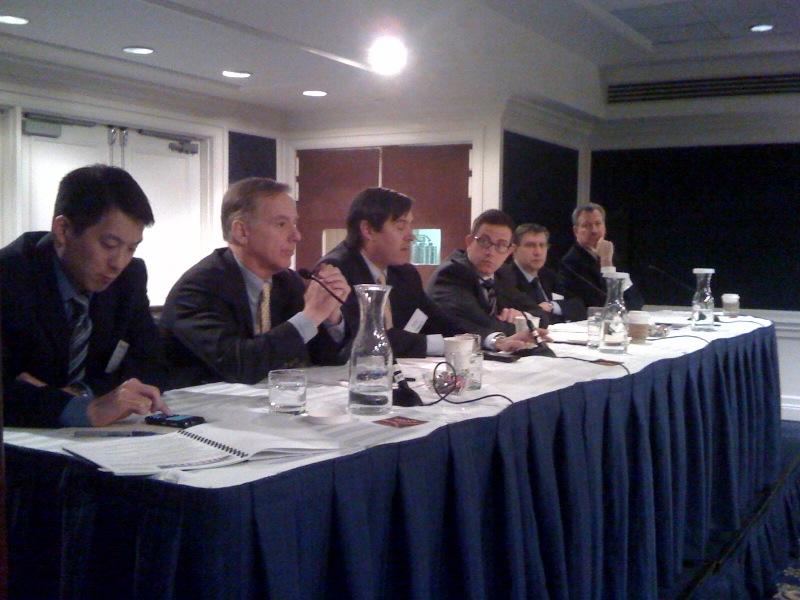 It's been nearly a month since the midterm elections, but the impact of the Supreme Court's Citizens United campaign finance decision is still largely disputed.
A bitterly divided court ruled in January that the government may not limit political spending by corporations in candidate elections. In the midterm elections that followed, corporate trade associations, unions and other outside groups spent nearly $300 million across the country. That's more than quadruple the amount they spent in the 2006 midterms, according to the Center for Responsive Politics.
But it's still an open question whether it's good business.
That was the consensus at a panel on Tuesday in New York City with former Vermont Governor Howard Dean, New York City Public Advocate Bill de Blasio, journalists, lobbyists and attorneys who advise corporations on how to stay on the right side of campaign finance law.
Good Return on Investment?
Much is still unknown about the source and impact of all the new campaign spending, including who spent what. Nearly half of the money spent has not been disclosed, said Michael Luo, who covered campaign spending during this election for The New York Times.
There's no question, though, that the outside spending completely transformed the calculus around campaign cash this election cycle. Spending on behalf of conservative candidates and causes dwarfed the outside spending for liberals, $191 million to $91 million. But Democrats raised more money than Republicans, Luo said, which is not surprising because there were more Democratic incumbents.
"It wasn't like Democrats were completely defenseless in all this," Luo said. "In a lot of cases, what a lot of this Republican outside group spending was doing was leveling the playing field."   
In New York's 20th House District, a big investment paid off. Outside groups spent more than $2 million of outside spending expressly against incumbent Rep. Scott Murphy or for his Republican opponent Chris Gibson. That was the nation's 17th highest spending rate by outside groups, and Murphy lost his seat by 10 points. The National Congressional Campaign Committee, Karl Rove's American Crossroads and a conservative group called 60 Plus Association were among the groups that spent big in the district.
Benefits and Costs
Luo points out that while the Citizens United case was far-reaching, corporations had plenty to power to spend before the decision. A 2007 ruling sanctioned issue-based advertising, but it had to stop short of advocating for or against a particular candidate. The impact was largely psychological, because it assured corporations of their constitutional right to participate and emboldened them to get involved.
The shield from disclosure is enticing businesses who have a stake in policy to get involved. Stefan Passantino, who advises corporations on election law and tracks state and federal election law at the Pay to Play Law Blog, laid out the corporate perspective this way:
"I have to get involved. I'm not doing it because I want to be mean or I don't want to play, but if I don't get involved, I cease to exist. How do I do it?," he said. "I want to be able to give my money to a group that is going to advocate my position, but do it in a way that's not going to subject me to the scorn of whatever the retribution might me, real or perceived."
But corporations can't always protect themselves from the "retribution" of their activism. The cautionary tale this year was Target, which faced a boycott campaign after it contributed $150,000 to MN Forward, a pro-business group in Minnesota. That group spent money on behalf of Republican Tom Emmer in the still-undecided Minnesota governor's race. Emmer's opposition to gay marriage rankled Target protesters.
That's why former presidential candidate Howard Dean says in his current work as a political consultant, his advice to companies is to stay out of it all. Dean said that even though there's no disclosure requirement now -- and Congress isn't likely to pass one before the 2012 election -- it's just not worth the public relations risk of grassroots or shareholder activists uncovering and publicizing a company's financial support for an unpopular cause.
But if you have to get involved, the former Democratic National Committee Chairman says it's wise to split the difference. "If you have to, give money to both sides. It's kind of the cowardly thing to do, but it's the only smart thing to do in terms of protecting your business interests," Dean said.
Dead 'Disclose Act'
After the Citizens United decision in January, President Obama and Democrats blasted the ruling, including during the State of the Union address. Part of their response was The Disclose Act, which would require corporations to report more of their campaign spending. The House passed the bill in June, but it stalled in the Senate this fall. Only two Republicans supported the bill in the House, and, as the GOP prepares to take control of the House, it's likely completely off the table until after 2012.
"The Disclose Act is dead on arrival," said Joshua Ian Rosenstein, the general counsel for lobbying powerhouse Dutko Worldwide. "Nothing's going to happen in terms of legislation to force this disclosure, so you either have to have a lot of faith in the voters or the general public to force the marketplace to do something, or else you have to have a very pessimistic view of what's going to happen."
New York City Public Advocate Bill de Blasio was equally blase. "We have no guarantees of restraint and no guarantees of disclosure and a bunch of regulatory entities that are sort of questionably taking responsibility." The solution, he said, will likely come from accountability and activism on the internet, at the state level, and in corporate boardrooms. "I think it really is all of our responsibility to sort it out, each in our own part of the equation, and try to effectively create some of that restraint and balance because we know the Supreme Court is going to do it, and we know the Congress isn't going to do it," he said.
Law Still Not Settled
It remains unclear just how far-reaching the impact of the Citizens United decision will be. Corporate lawyers, for one, are telling their clients that their anonymity is not assured. "The jury is still absolutely out" about whether tax-exempt front groups "can be used to shield donors from scrutiny," a guide put out by Stefan Passantino's firm reads.
Still, Passantino is quick to defend corporation's constitutional right to associate, which includes the right to anonymously. "There will be anonymous speech. There has to be anonymous speech. Because if there's not anonymous speech, the fundamental right to associate with people who believe in an unpopular thing can't exist," Passantino said. 
In the midst of this murkiness, legal and strategic advice for 2012 is still evolving. It's still not clear how the IRS will treat the big-spending 501c4 organizations. After high-profile losses of big-spending candidates like Linda McMahon in Connecticut and Meg Whitman in California, it's also up for debate whether unlimited spending turns voters stomachs and leads to diminishing returns.
In the meantime, the Center for Political Accountability, a good government group in Washington, is appealing directly to corporations to agree to voluntary disclosures. The group recently published a campaign finance handbook with the Conference Board in an effort to create corporate best practices in the absence of regulation.
For now, lobbyists and lawyers in Washington are continuing to urge their corporate clients to proceed with caution.
"Fear tactics oftentimes work. My trainings generally start with a photograph of Jack Abramoff being led off in handcuffs," said Dutkco Worldwide's Joshua Ian Rosenstein. "People don't think they're going to look good in orange jumpsuits, and if that's what gets your CEO to fall into line, so be it."