Writers Discuss Dreams and Ambitions at Happy Ending
The theme of the Happy Ending event at Joe's Pub on November 10th was dreams and ambitions. Jennifer Egan, Julia Holmes and Teddy Wayne read from their new novels, which offer unconventional views of success, explore what it means, and consider whether success can make us happy.
Holmes' new novel "Meeks" is set in a grim society where a strict hierarchy is enforced by the police. The title character is a man who lives in the park, and suffers from various delusions—including that he is a benevolent cop.
Karim is the main character in Wayne's book, "Kapitoil." He is professionally a success, but his personal life is dismal. Although Karim is fluent in numbers, his communication skills are awkward to nonexistent. In the scene that Wayne read at Joe's Pub, Karim goes to a wild party where he tries to impress his pretty co-worker by smoking pot.
Egan read from her latest novel, "A Visit from the Goon Squad." In the excerpt she presented, one character, Stephanie, asks her brother Jules (recently released from prison) how he has managed to make such a mess of his once successful life.
Elizabeth Ziman, the singer songwriter keyboardist behind Elizabeth and the Catapult, was the musical guest.
Bon Mots:
Holmes reading from "Meeks": "I was content watching the people coming in and out of the park, the people for whom things were underway. Their ships had sailed and they smiled in the ship's breeze of an amiable open sea and it was a pleasure to watch them inhabit their pleasures without embarrassment."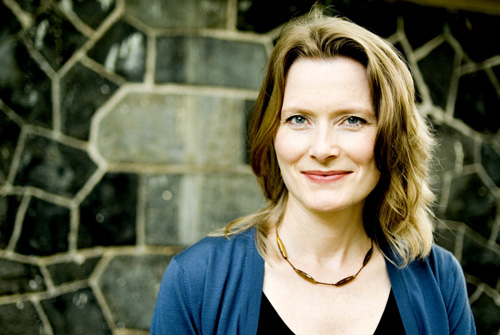 Egan reading from "A Visit from the Goon Squad": "He had gotten himself a job at Harper's, an apartment on 81st and York; and three roommates, two of whom now edited magazines; the third had won a Pulitzer. 'I don't get it Jules, I don't get what happened to you,' said Stephanie. Jules stared at the glittering skyline of lower Manhattan without recognition. 'I'm like America,' he said. 'Our hands are dirty.'"
Elizabeth Ziman, of Elizabeth and the Catapult, on her career: "One of my lifelong dreams has been to make some bread doing what I love—what a novel idea.  And low and behold, this next song just landed a Google commercial."
Click on the link above to hear excerpts from the evening.