Rock Center Lights Up Acton Family Christmas Tree
Tuesday night's the night for the annual lighting of the Rockefeller Center's Christmas tree. This year's 12-ton, 75-year-old Norway spruce comes from Mahopac, New York. The tree was donated by Bronx firefighter Peter Acton, his wife Stephanie and their two children Seamus and Fiona.
Keith Douglas, senior director of sales and marketing for the Rockefeller Center, said in selecting its trees, the Rock tries to cut down evergreens that are ready to be chopped down—either distressed or too large. The Acton's tree was not especially distressed, but it was ready to be chopped down. "It had grown to a level where the family knew that in the short term they were probably going to need to do something with the tree because it was so close to the house," Douglas said. Plus, the spruce, at 74 feet tall, 40 feet in diameter and 12 tons, was also a "really good-looking tree."
"Over the years, people would say to us that the tree belonged at Rockefeller Center, but we never paid much attention," firefighter Peter Acton said, according to a Rockefeller Center press release. "Even now, my wife is disbelieving that our tree is really going to be this year's Rockefeller Center Christmas tree. It's a tremendous honor."
The Rockefeller Center, now in its 78th year of installing and lighting up trees each holiday season, spotted this year's Norway spruce in September. It beat out some 70 other trees that were "write-in candidates," and that also met the Rock Center's tree requirements. "It has to be a Norway spruce," Douglas said. "We like the tree to be 65 feet or taller, and at least 40 feet in diameter."
Although this year's tree is three feet shorter than last year's, the Rock has no doubt it has the presence to fill the Rockefeller Center plaza. Its 30,000 multi-colored Light Emitting Diode (LED) builbs will be turned on Tuesday night at 8:55. Panels atop one of the Rock's buildings will help power the lights. The star with 25,000 crystals made by Swarorvski will radiate from on the top of the tree.
The Acton's Norway spruce will also have a life beyond the holiday season. "After the tree is illuminated and it has enjoyed its time here during the holiday season, we then remove the branches from the tree, and the branches are made into mulch, and that mulch is donated to a variety of organizations, whether it be a zoo or state park or Boy Scouts of America," said Douglas." The tree's lumber will also be used to build a home in New York.
After it's lit, the lights on the Rock Center Christmas tree will be turned on from 5:30 A.M. to 11:30 P.M. until January 7. On December 25, the tree will be lit all day (24 hours) and from 5:30 A.M. to 9 P.M. on New Year's Eve.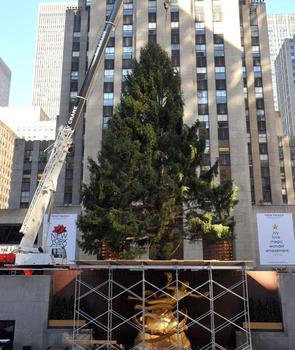 of