As Balloons Are Flattened, Parade-goers Say Thanks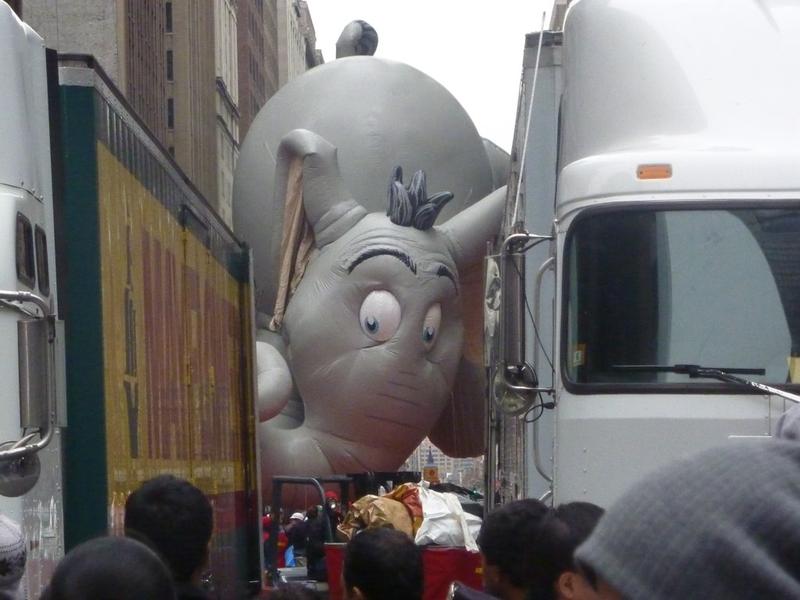 Watching Spiderman, Horton and Buzz Lightyear balloons float along the Macy's Thanksgiving Parade route is only part of the spectacle parade-goers were enjoying. After traveling from Herald Square to the Upper West Side, dozens of balloons were lowered to street level, and flattened. 
"I think it's way cooler to watch them go down then watch them go up," said Claire Barnes of Westchester. "It's a little different view them from up close," she said.
The scene was bittersweet, and provided a thoughtful backdrop for some people to reflect on what they were thankful for this year.
Crystal Carrenl, 16, lives in Florida and was watching the parade with her mom. She said she was grateful for family because "they've always been around."
Another young woman, who would only identify herself as "Sarah," said watching the balloons deflate made her thankful for the creation of plastics. "If we didn't have the plastics and the polymers," she said, "we wouldn't have a balloon right now." And "Some generation is going to be happy when they see that sitting in the dump one day."
Perhaps.
Stjohn McKay was holding his 3-year-old son, Malachi, pointing and taking photographs as Spiderman and Horton lost their shapes. McKay, an aspiring filmmaker, said, "It sounds kind of corny but I'll do it anyway. I always think 'there but for the grace of god, go I.'"
Why?
McKay, who is originally from New Zealand, said living in the city can be a struggle. "In New York, you see so many signs of things not going well for people, you know? I honestly am so thankful - this is a hard city and and I've been able to manage, to hustle, you know, and make it work." He now lives in The Bronx, and is also grateful to be with son, he said.
Echoing McKay's 'thank you' list was Randal Jones, who walked up and down the parade, yelling, "Justin Bieber, one dollar!" Jones, also from The Bronx, was selling a variety of buttons featuring the teen pop singer, said, "Today, I'm thankful for being alive, thankful for having my family in my life and I'm thankful for being able to come out here and make a couple of dollars without getting in trouble."
Jones said he didn't see the parade, because he was too busy "hustling."