Last Chance Foods: Sweet and Savory Thanksgiving Pie
Thanksgiving, that favorite time of year for foodies everywhere, is finally here again. As many of us gear up to roast, braise and bake this week, it's worthwhile to have a plan in place for dispatching with those mountains of leftovers. But let's be honest, while sandwiches might be the easiest answer, they are not the most creative or appetizing. Instead, let your mind wander over to the territory of the savory pie.
Nate Smith, the former chef of The Spotted Pig, and Emily Elsen, who owns the pie shop Four and Twenty Blackbirds with her sister Melissa Elsen, are seasonal pie experts. Together, they host a monthly all-pie dinner at the shop in Gowanus, Brooklyn—and reservations usually sell out quickly. They devised a recipe for Thanksgiving leftovers pie just for WNYC.
Smith (pictured below) suggests focusing on turkey and vegetables and coating them first in a little olive oil. Then, break the turkey down into bite sized pieces, being careful not to overwork the meat or make it too stringy. "I personally think you can serve the starches alongside of the pie, as part of the final leftover meal," says Smith. "It's totally a personal taste. It's not a right or wrong thing." But he does insist that stuffing needs to go into the pie.
Finally, Smith warns not to over-sauce the pie, otherwise it'll get too soggy and overcook. Instead, leave vents in the top crust and pour some gravy back in once the pie is done baking. "It's a nice way to sort of freshen it up as it comes out of the oven," he says.
Smith, who specializes in savory pies, uses frozen beef suet lard for his crust. He grinds the frozen lard into pellets, and then folds it into the dough. When it melts in the baking process, the lard almost seems to fry the outside of the crust. He also recommends using a pinch of baking soda for a fluffy, biscuit-like consistency inside.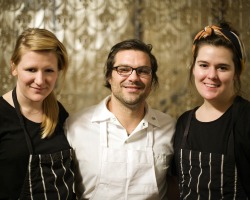 Elsen, on the other hand, is the sweet-pie expert, and sticks to a butter crust. She and her sister have their own tricks of the trade, including adding a little apple cider vinegar to the crust. She puts a couple of tablespoons of the vinegar into a cup of ice water. It's provides a tang and supposedly contributes to the crust's flakiness.
As for the ever popular and seasonally appropriate apple pie—an ideal end to any Thanksgiving feast—Elsen suggests using a combination of apples. "Granny Smith is a firm, hard, dry apple," she says. In order to balance out the sweetness, Elsen uses local Empire and Ida Red apples.
"The other thing that we do that is really a handy technique is to sweat your apples first," says Elsen. "Coat them with a little bit of sugar, a tiny bit of salt, maybe, and some lemon juice, and let them sit for a good hour or more and let some of that juice run out of it."
Try out Smith and Elsen's recipe for "Thanksgiving Leftovers Pie" below.
Thanksgiving Leftovers Pie
By Nate Smith and Emily Elsen
On the day after Thanksgiving, it's likely you won't want to do a lot of prep work all over again, so a simple turkey pot pie with already prepared meat, vegetables and gravy is an easy way to put your leftovers to good use. If you are making pies for Thanksgiving day, you could even save a round of crust and have it ready and waiting to make this day-after savory pie.
This recipe makes one double crusted, 9-inch pie.
Preheat oven to 375˚F.
Crust
2 1/2 cups all-purpose unbleached flour
1 teaspoon salt
1 tablespoon sugar
1/2 pound (2 sticks) cold unsalted butter, cut into 1/2-inch pieces
8-10 tablespoons ice water with cider vinegar, or more as needed (combine 1 cup cold water, 1/8 cup cider vinegar and ice)
Whisk the dry ingredients together and blend in with a hand-held pastry blender the chopped, cold butter, being careful not to overwork during this step. The butter should be in pea sized chunks, not too big, but not completely incorporated. Slowly add the ice water and vinegar mixture and bring the dough completely together by hand, again being careful not to overwork.
Divide into 2 discs, wrap in plastic and chill 1 hour or more before use.
After chilling, roll out the pie dough for a top and bottom crust. For the bottom, use a nine inch pie pan, deep or shallow. Butter the pan generously and press the crust in the bottom, leaving about an inch of crust overhang around the edge. For the top, roll out into a round large enough to fit the top with 1/2 inch overhang. Cut a small hole in center of the top crust with round cookie or biscuit cutter. Set the crust in the fridge to stay chilled while you prepare the filling.
Filling
1 1/2 lbs leftover turkey meat, cut into roughly 1/2"- 1" pieces
1 1/2 or 2 cups leftover vegetables and stuffing, (i.e. brussels sprouts, green beans or carrots, etc.)
1/4 c good flavored olive oil ("Olave" brand is a good choice)
2 c gravy
salt and pepper
In a large mixing bowl, combine all of your meat, stuffing, vegetables and olive oil and gently mix to coat all of the ingredients. Add 1/4 c of the gravy and mix again. Season with salt and pepper.

Whisk one whole egg with a pinch of salt and a little milk to create an egg wash for the pie.
Pour the prepared filling into the pie shell. Place the top crust by centering the vent hole. Crimp together the edges so they are tightly sealed. Brush with egg wash.
Place on a half baking sheet (to prevent drips from burning in the oven) and bake at 375˚F until crust is well set and golden brown, about 45 minutes to 1 hour.
Once pie is removed from oven, add remaining gravy through the center vent hole in crust.
Allow pie to cool slightly, then cut and serve with a scoop of warm mashed potatoes.