Atlantic Yards Gets Musical Treatment
Construction started earlier this year on the largest development project in Brooklyn's history, the Atlantic Yards. And even though it isn't finished, the project is already a musical. "In The Footprint: The Battle Over Atlantic Yards" opened Monday at the Irondale Brooklyn in Fort Green, just two blocks away from the Atlantic Yards construction site.
The dialogue and musical numbers are taken verbatim from interviews with 125 people -- residents, business owners, political leaders, neighborhood activists, union members. All of them are players in Forest City Ratner's multimillion dollar plan to build a basketball arena and housing over 22 acres of land in Prospect Heights, displacing hundreds of residents in the process.
The play, which was funded with a $150,000 grant  from the Rockefeller Foundation, is a project of the theater company The Civilians. Steve Cosson, the group's artistic director, said it was not easy getting a hold of the plot. "It's a crazy story. It does involve complex political issues, city politics and development and all sorts of things I've had to learn about."
In the past decade, The Civilians have presented ten original plays, all culled from creative explorations of real life issues, from divorce to terrorism and homeland security. (WNYC collaborated with The Civilians on the Divorce Tales project).
For this production, the actors were also the reporters. Greg McFadden plays half a dozen characters, including Brooklyn Borough president Marty Markowitz and architect Frank Gehry. He interviewed all the people that he plays on the show and said he tried to absorb everything, from their beliefs to the rhythm of their voice. "It's nerve racking to portray someone who is a real person and who is going to come see what you're doing with their words and their cause and their life really," he said. "So you try to be as faithful as you can to them."
Cosson says that if the play sounds too much like reality, well, that is the idea. "It's not a satire, it's not a sketch comedy, it's all authentic. It's all people represented by actors, but real people are fascinating idiosyncratic creatures."
"In The Footprint" runs until December 11.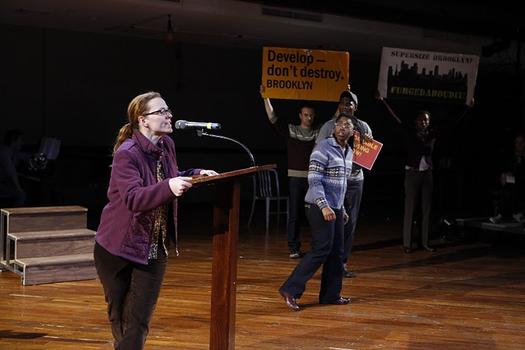 of