The 2012 Temperature: Which Potential Candidates Have You Excited?
You may be thinking about Thanksgiving and the beginning of the holiday season, but pollsters are already looking to November 6, 2012. And if that election were held today, Obama would be in trouble according to a Quinnipiac poll out today – but not if his opponent were former Alaska Governor Sarah Palin.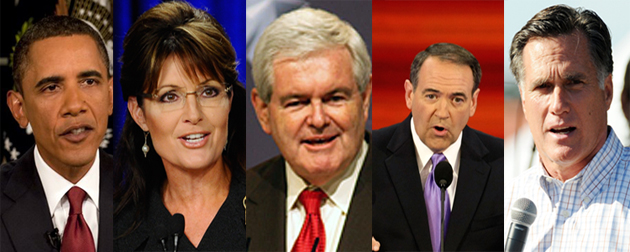 Former Massachusetts Governor Mitt Romney or former Arkansas Governor Mike Huckabee are both polling evenly against Obama in a match-up. Obama fares better against Palin, in part because she's turning off independent voters. Former House Speaker Newt Gingrich is also in the mix, narrowly trailing Palin, Romney, and Huckabee when Republican voters were asked for their top pick for the GOP presidential primary.
No matter your politics, who has you excited for 2012? Take the polls below, and leave your comment here!