A Panda Bear Punching Bag Comes to Brooklyn
Have a rough week at work? Did your significant other do you wrong? Has your cat run away or head to that big farmhouse in the sky? Well, for the next 24 hours you can call someone in Brooklyn who cares. For a penny, Performance Artist Nate Hill will take a punch in the belly while dressed as a cute, adorable, 6'3" wide-eyed panda bear. Until Saturday night, you can even set up a house call to vent at a time best suited to your schedule.
Hill's performance piece, "Punch Me Panda," is a social interaction experiment (he tweets punching appointments and panda happenings via Twitter) that fills Hill's longing to help people. "As an artist, I wanted to not focus on my own predicament, but think about other people's predicament," Hill said on Friday in between punch appointments. "I wanted to set up an exercise where I could practice empathy and love for strangers because I'm not the most naturally empathetic person."
Hill has been roaming the streets of Brooklyn since Wednesday doing his Punch Me Panda art piece. The project bears some similarity to his last performance, "Death Bear," in which Hill picked up purged items from past lovers in a black bear costume. Both pieces create intimate interactions with his audience.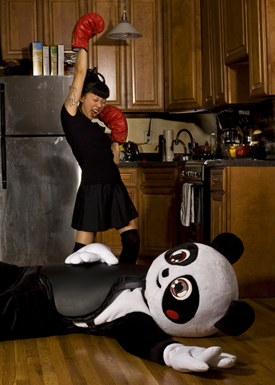 This week, a pregnant woman stopped by the gallery space #TheSocialGraph, which is hosting Hill's Punch Me Panda installation performance. Hill first took her into the gallery's bedroom because he's interested in creating real moments with the people punching him. "We had a talk about her problems and that she wanted to get upset at something and hit something," Hill said. "She said she wasn't going to hit me too hard in the beginning but she really got into it and couldn't stop. She just kept hitting me and hitting me."
Hill says part of his act is to elicit some feeling and a reaction. "I want you to feel vulnerable just like I feel vulnerable, I want it to be disarming," he said. "So, let's have a real moment. I'm not a mascot at Times Square."
The 33-year-old says he bought his panda suit on eBay from China, which somewhat fits into his charming, if odd, Punch Me Panda back story. He's been stolen from his family in China, was lost in transport on the way to the Bronx Zoo and is now sleeping on the aforementioned gallery's floor on the border of Ridgewood, Queens and Bushwick, Brooklyn. The panda is banking on New Yorkers counting on him to be an avenue for their rage.
Hill's Punch Me Panda act ends on Saturday night. But if you're still in need of an outlet, send him a tweet and he might just stop by.