Fetching Dinner: Hunting Dogs Help Bring Seasonal Foods to the Table
As the light pleasures of summer give way to the denser ones of autumn—tweed replaces linen; fires are lit; sidewalk cafes roll up the pavement for the year—our meals get denser, too. This week All Things Considered Host Amy Eddings looks at hunting in WNYC's "Last Chance Foods" series, and that means it's time to call the dogs.
In many parts of the United States, man's best friend has a lot more to do than carry your slippers, or ride in your handbag.  Most breeds were designed with some purpose in mind. But while some of their old jobs are obsolete (the owners of roguish French Bulldogs probably aren't plying their trade as lacemakers, and few Keeshonds are guarding the Edam) hunting dogs are never out of work. Each season an eager cadre of retrievers, spaniels, pointers, and other bird and game dogs set out for a day's sport—and help bring home the evening meal. 
Some dense-coated dogs—like Chesapeake Bay Retrievers—are bred to retrieve water fowl; many others work with "upland" birds such as pheasant and quail. Betsey Battistoni, a breeder and handler of champion English Springer Spaniels, notes that there are two types: pointers, who help to identify sneaky birds like quail ("if they're alarmed, they disappear like little rockets")—and flushers, who help push birds out of the cover. Especially pheasants, she says, who can give Road Runner some serious competition.
While a dog's hunting ability is innate, a lot of time is required to teach the skills that make him or her an effective companion in the field. This includes everything from the basics, such as coming when called, to learning to identify and retrieve game (both dead birds and dummies are used for this) and to bring it undamaged to the "gun" (as the handler and hunter is known.) "Anybody who buys a puppy in a given year and thinks he's going to shoot over that puppy that fall," Battistoni says, "well, they have a rude awakening."
Battistoni is not a proponent of starting serious training too soon—stressed-out puppies tend to "crunch" the birds, she says—but "at about a year to a year and half you have some idea of how much talent you have in a dog." 
I've been following the progress of two such talented youngsters in Dutchess County, and spoke with their owners for this piece.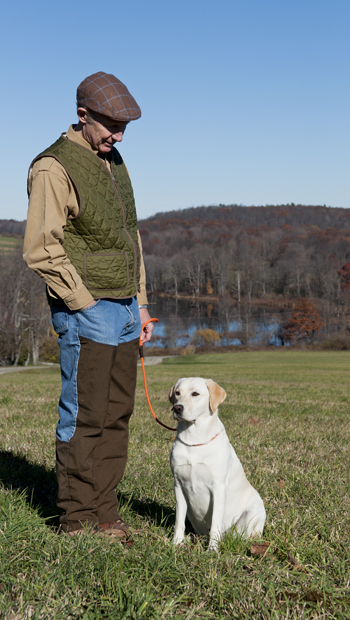 Fritz Henze, an energy lawyer, and his wife Nancy, are the proud owners of Lila (pronounced LEE-lah, it is Spanish for "lily"), a beautiful, self-possessed 16-month old Yellow Labrador retriever.  Lila has been in training (with Fritz and a professional handler), for over a year, and is just beginning to work on "real" shoots.  "Dogs in training have quite a short attention span," says Henze, so they are worked "no more than 20 minutes in the morning and 20 minutes in the evening." 
I am reminded of toddlers, and Henze's next observation reinforces the parallel: "One of the things that most people don't know is what dogs need are exercise, discipline, and affection (in that order) and the problem is that most dogs get them in reverse order."  He is confident that Lila, who listens gravely while we talk, occasionally lifting her shapely head to catch the scent of geese on the pond, will learn her lessons well: "She comes from a line of hunting dogs, father and mother, so she's going to be great."
Listen to my interview with Fritz Henze and Lila here: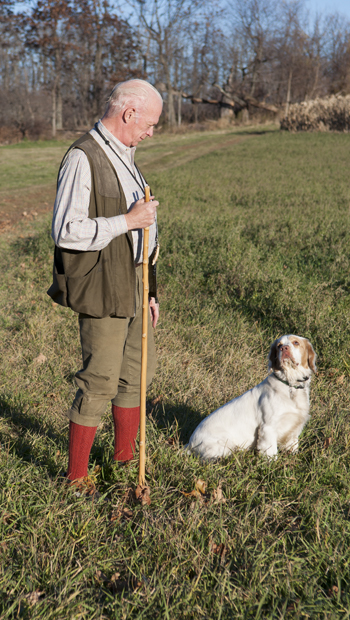 Robert Thomas, a lawyer who has been hunting for over thirty years, says the same of his personable Clumber Spaniel, Merlin. Merlin is two years old, and descended from "six or seven generations" of champion field spaniels. The breed itself is much older, looking today much as they did in 18th-century portraits—solemn and a little solid, with striking big heads and silky coats. Clumbers are "laid back" says Thomas, and are sometimes called "the old man's working spaniel"—kinder on stiffening joints, and willing to work close to the gun.
But slower certainly doesn't mean dozy: Thomas puts Merlin smartly through his paces in a field behind his house. Merlin bounds eagerly in the high, late summer grass, retrieving a rubber dummy in place of a bird, coming to heel by Thomas's side in response to a whistle, and demonstrating the spaniel's signature flushing technique: "The dog quarters the field in front of the gun."  (In what Betsy Battistoni calls "the next grade," the dogs also learn to spot game where it falls from the sky.)
When he is not hunting, Merlin is a house dog, trading in his working dummy for an impressive array of hunting-themed toys (a really, really well-loved plush squirrel sits on the table during our interview). Old-school handlers, Thomas says, used to advocate keeping a hunting dog outside, and treating it basically "as a machine."  But today's thinking is less rigorous, and Merlin's joyous but attentive demeanor seems to argue for this kinder, gentler approach. 
Listen to my interview with Robert Thomas and Merlin here:
If Clumbers are the steady steamboats of hunting dogs, Springer Spaniels are the racing sculls, eager and urgent.  For Battistoni, this is one of the key pleasures of hunting: "There are people who go out there just to shoot birds out of the sky. I would find that boring. But watching the dogs is mesmerizing. Any human's idea about what's going on…pales by comparison to the knowledge that a dog has going down the field."
Right now, she's excited by the prospects for Pilot, a four-year old Springer who has already qualified for a major championship. (He and another of Battistoni's dogs, Spencer, can be seen in action in the slide show below). "I'm the handler, there's a lot of pressure on me," she admits.
All three owners agreed with Field and Stream editor Anthony Licata's contention in his interview with Amy Eddings that hunters were the first "locovores."  "There were hunters before there were farmers," notes Henze. "Shoot it, take it home, eat it—it doesn't get any more local than that," adds Thomas. Battistoni, an accomplished cook, shares the wealth. On trial days, when there are big "bags", a select group of friends gets a delivery of pheasant (cleaning not included); and even the local animal population benefits. "A pheasant is not a chicken," she notes wryly. "Their legs are as tough as any old shoe. So, I just take out the breasts and give the carcasses to the foxes."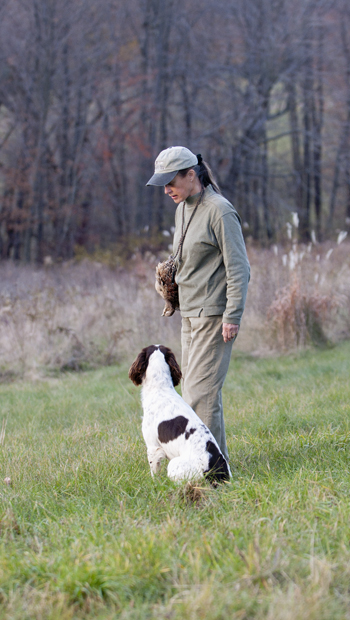 Listen to Betsey Battistoni talk about training basics here:
A hunting dog can enjoy a vibrant working life for as much as a decade, and these dogs radiate a centered happiness that any yogi—or maybe Elizabeth Gilbert—would envy. Henze, Thomas, and Battistoni all say that working with an animal intensifies their pleasure in nature and in their sport too. But let's not go all touchy-feely about it. To a man (and woman) each had the same practical observation: Without a dog in the field, you go home empty handed, and open a tin of soup.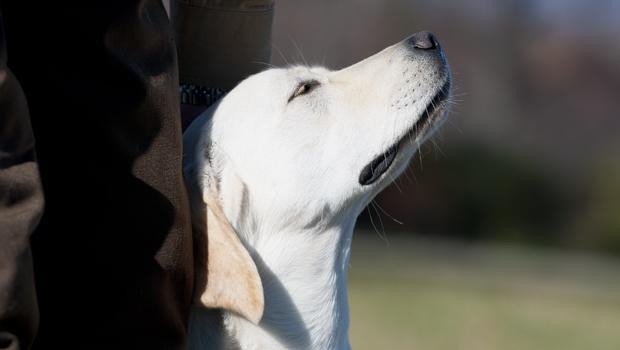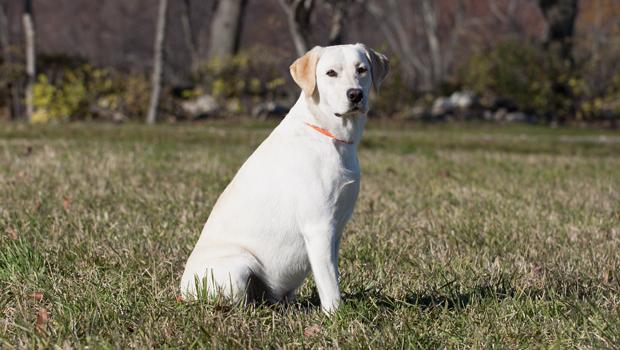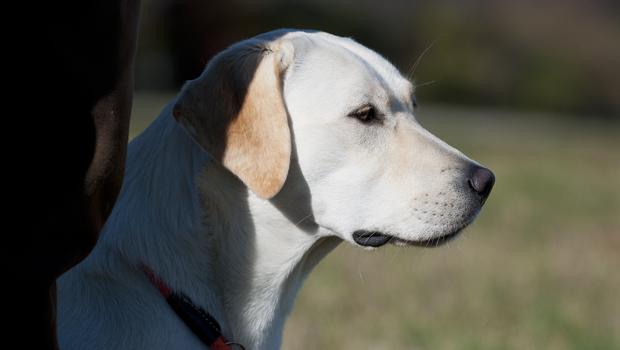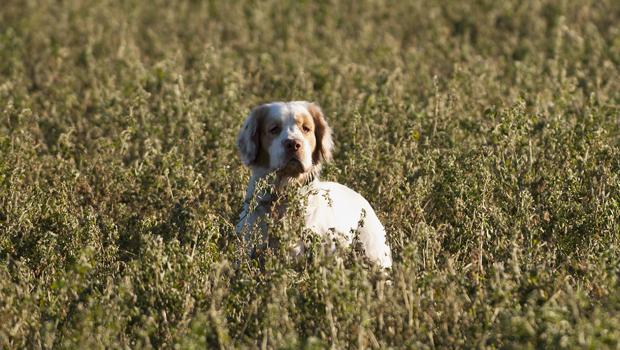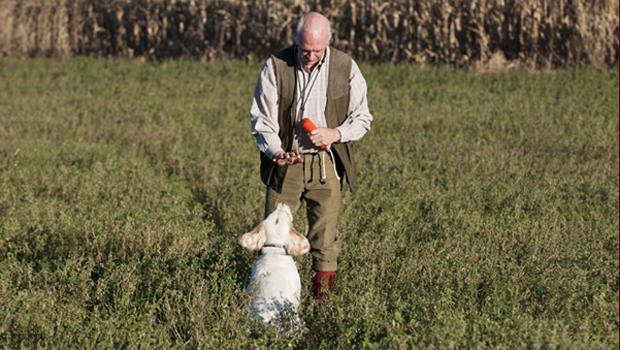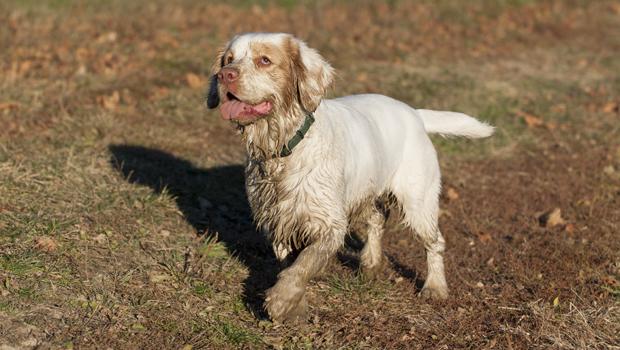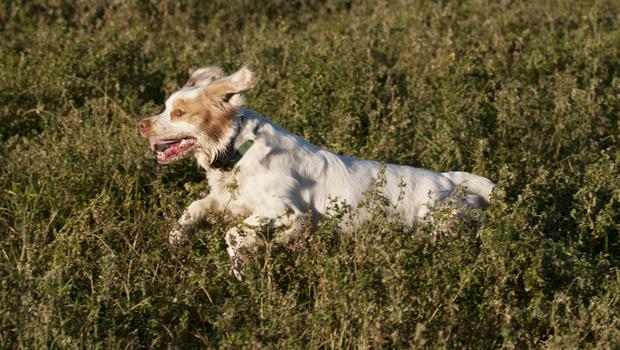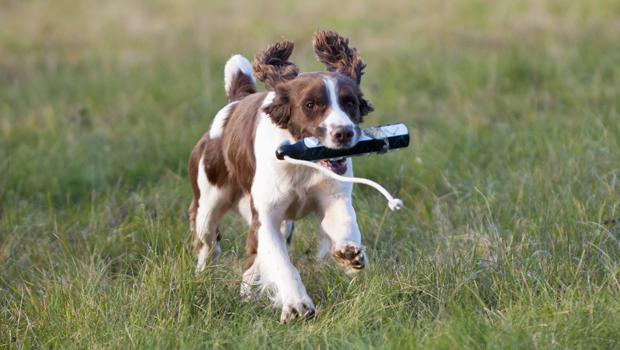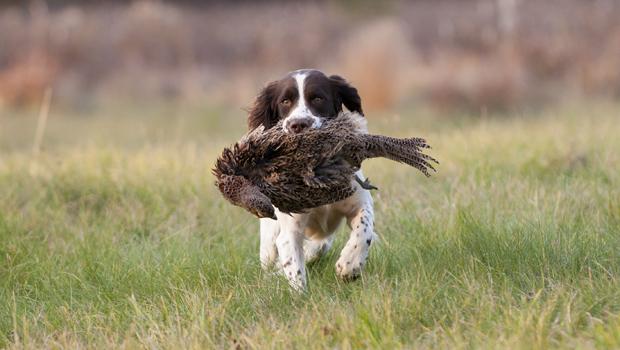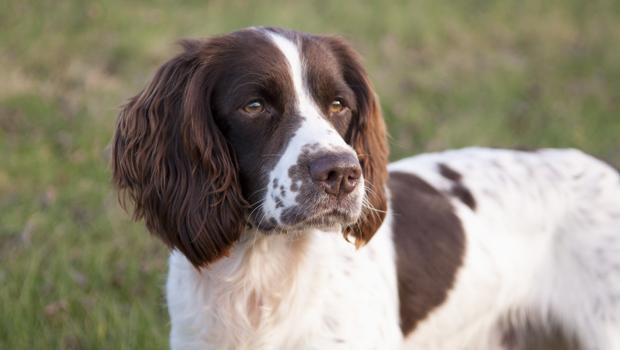 of