Every November, fans honor the romantic tenor Mario Lanza, who made his mark in a career that lasted only around 12 years.  As WNYC's Sara Fishko tells us, he hit notes both high and low.  Here is the next Fishko Files...
When Mario Lanza sang at the Hollywood Bowl in 1947, he was immediately spotted by movie talent scouts. His first two films That Midnight Kiss and The Toast of New Orleans introduced him to the movies. But the film The Great Caruso (clip, above) served as Lanza's breakout role. In playing Enrico Caruso, Lanza got the chance to honor his childhood hero and to inspire many tenors to come.  Yet, the problems and pressures of his sky rocketing fame overtook his career. Lanza died at just 38. Ellisa Lanza Bregman, Lanza's only surviving child, remembers her father and the publicity around his sudden decline.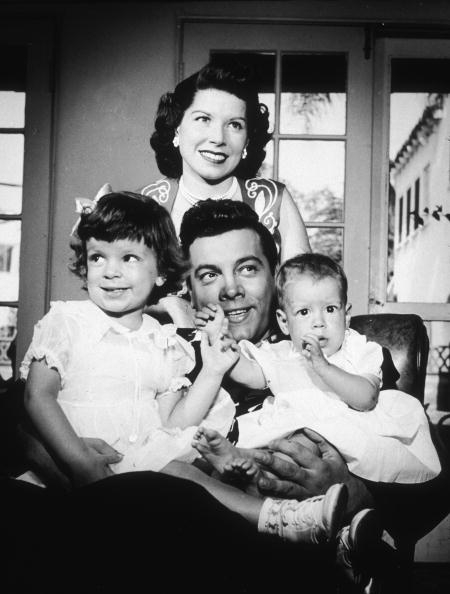 Above: Mario Lanza sits in an armchair with his young daughters Ellisa (left) and Colleen, and his wife, Betty. 1951.
Ellisa Lanza Bregman
Through his films you could see what type of a man he was. He just loved people, and he trusted people. And that was part of the problem: he trusted too many people. But, I just feel that he had his demons, there's no question about it -- like we all do, at times. But I think over the years the negative stories about him have been exaggerated. I just say, 'oh my goodness.' Some of these things are so untrue -- stories about his weight and this and that. And he went up and down. Which he did, I mean, but he felt better when he sang in the studios and recorded the music. And then when he made the movies he would have to lose the weight -- if he gained 15, 20 pounds. So, it was kind of a yo-yo diet situation there during his filming. Sometimes I cringe when I hear certain things. Because I say, 'Oh, Gosh, it has been so many years and people still talk about certain things.' They just seem to like the negative aspect. But my feeling is that he's left the world a beautiful legacy that's still continuing. And I'm so appreciative, as his daughter, to be able to be able to hear him and see his movies.
For more from the people heard in this piece...
-Visit the The Mario Lanza Institute.
-Read Mark Rotella's book "Amore: The Story of Italian-American Song."
-Listen to Richard Leech's "From the Heart: Italian Arias and Neapolitan Songs."
WNYC Production Credits
Mix Engineer: Wayne Shulmister
Assistant Producer: Laura Mayer
WNYC Newsroom Editor: Karen Frillmann