How to Punish Charlie Rangel: Koch Says Quit, Harlem Pols Laugh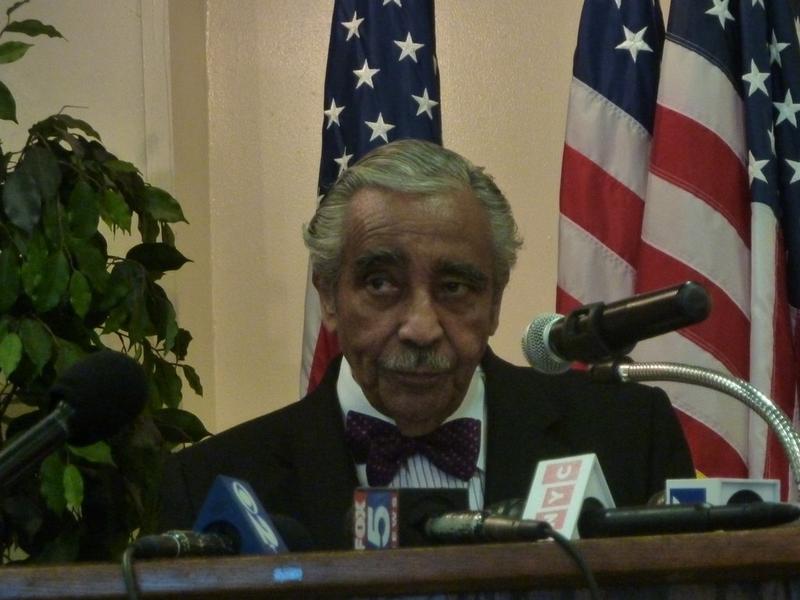 The only question now is how to punish Rep. Charlie Rangel.
The facts against the veteran lawmaker in his two-year-old ethics probe were never in dispute. More than five hundred pieces of evidence were accepted without objection by a bipartisan panel who, on Tuesday, found Rangel guilty of violating 11 different Congressional ethics rules.
But now, a complete lack of consensus has broken out about what to do with the facts about Rangel.
"Most of us stay too long on the stage and ultimately regret it," said former New York City Mayor Ed Koch, who also served in Congress. He called on Rangel to resign, saying he wasn't thinking about the 80-year-old's legacy, but rather, "for his own health's sake."
"Charlie ought to consider, at his own pace, retiring from Congress," Koch said. He said there is not much awaiting Mr. Rangel when the 112th Congress reconvenes with Republicans in the majority, following their gain of more than 60 seats in the midterm elections.
"He's now part of the minority in the House. He's no longer chairman. He will have very little authority," said Koch. "He will not be happy continuing in Congress."
Governor-elect Andrew Cuomo, a fellow Democrat who has made cleaning up corruption in the state capital a top priority, was more equivocal.
"It's painful to watch," said Cuomo, who fell short of offering his own thoughts on the matter, saying "we'll see what happens at the end of the process."
Rep. Peter King, a Republican from Long Island, seemed to regret having to possibly admonish Rangel in any way, and even sounded defensive of him.
"What he did was wrong, but it was not intentional. it was not malicious," King said. "Charlie Rangel is from the old school — didn't realize the rules had changed. But as the Ethics Committee itself said, there was no evidence here of corruption. There is no evidence here of evil intent."
King rattled off highlights of Rangel's career: 40 years of in public office, military combat service, work as a federal prosecutor, and said, "I hate to see it all end this way."
King said he hoped the committee would show some degree of leniency and take into account the entire record of Charlie Rangel, "not some negligence over the last several years."
Most of Rangel's violations stem from his efforts to raise money for a school to be named in his honor, which has yet to open. His failure to pay taxes on income he earned from a villa in the Dominican Republic and his use of a rent-stabilized apartment as a campaign office drew national headlines, but accounted for just two of the violations.
The penalties awaiting Rangel are expected to be more symbolic than substantive. The chief counsel for the Ethics Committee said, while presenting the evidence against Rangel on Monday, that most of the wrong-doing stemmed from "sloppiness" rather than "corruption."
Plus, Rangel has already relinquished the gavel of the Ways and Means Committee, leaving few perks to be removed.
But the impact the punishment has on Rangel is only half the equation.
A summary of Congressional rules about punishing members of Congress describes the authority to "punish" its own members as "a device or procedure designed not so much as merely a punishment of the individual member, but rather ultimately as a measure to protect the institutional integrity of the House of Representatives, its proceedings and its reputation."
One of the harsher penalties is a public rebuke of the Congressman with a censure from his congressional colleagues. The Congressman — a decorated Korean War veteran who has spoken openly about wanting to preserve his integrity and reputation — could be particularly wounded by such a move.
Another punishment is the loss of member's seniority or other privileges. The Ethic Committee could, according to Congressional rules, issue a "Letter of Reproval" for "misconduct which does not rise to the level of consideration or sanction by the entire House of Representatives."
It is doubtful Republicans on the Ethics Committee – who reportedly rejected earlier offers to settle the probe before this week's proceedings – would agree with such a light penalty.
Only five members have ever been expelled from the Congress, but "a number" of others resigned before formal action against them could be taken, according to Congressional records.
One punishment that does not appear to be in Rangel's future is the refusal to seat him when the 112th Congress reconvenes in January. Amid the well-publicized restart of the ethics probe, Rangel ran and convincingly won reelection to his seat. In 1967, Congress had earlier attempted to deny a duly elected lawmaker from being seated in the House of Representatives. The Supreme Court decided the move was unconstitutional.
That member was Adam Clayton Powell, Jr., who Rangel later defeated in order to start his own Congressional career.
Whatever punishment is handed out to Rangel, allies say it will do little to diminish the stature of the elder statesmen.
"I don't think a censure would have any, any sort of impact on Congressman Rangel as far as I'm concerned," said Keith Wright, a Democrat whose Assembly district overlaps with Rangel's in Harlem.
"The folks that he serves with will still be listening to him because not only of his experience and because of his depth of knowledge of subject matters and policy," said Wright. "And also, because he's Charlie Rangel and they're not."
Another Harlem Democrat, City Councilman Robert Jackson, said bluntly, "I would not want anyone else representing us."