New York City Honors Veterans at 91st Annual Parade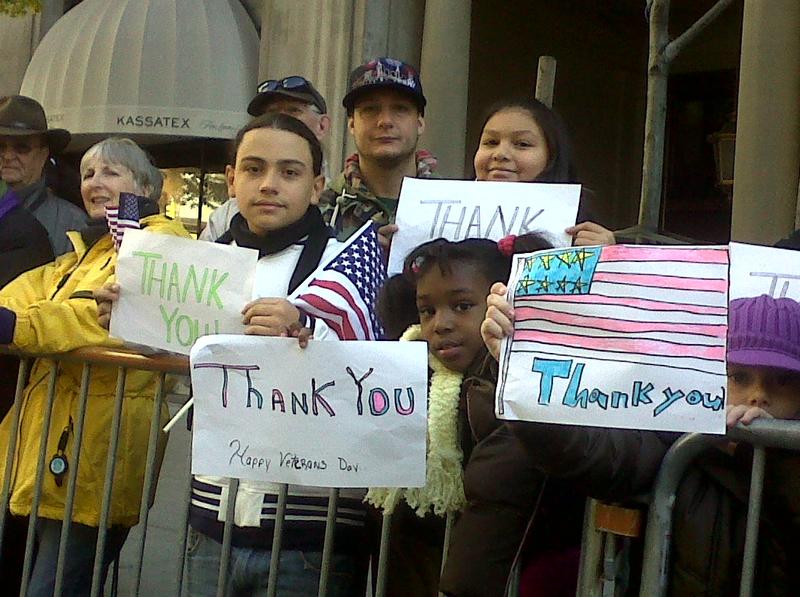 An estimated 20,000 people, including about 3,000 active duty servicemen and women, marched up Fifth Avenue to mark Veterans Day. Participants included veterans from the wars in Iraq and Afghanistan, as well as the conflicts in Vietnam, Korea and World War II.
Thursday's ceremonies began with a 21-gun salute and the playing of taps at the Eternal Light Monument at Madison Square Park, with Governor David Paterson and Mayor Michael Bloomberg in attendance.
Eighty-eight New Yorkers have been killed in the wars in Afganistan and Iraq.

"No city cherishes its liberty more than we do, and so we have a special obligation, I think, to honor the armed forces, who at great personal sacrifice, have defended our city,"  Bloomberg said
He also focused on the importantance of meeting the needs of veterans returning home from Iraq and Afghanistan. "We must ensure that there are good jobs available to those returning men and women of the armed services and those that gave so much to us," he said. "We have to make sure that they get the best healthcare and social services that we can possibly provide."

Paterson noted that veterans returning from Afghanistan and Iraq are treated far better than those who fought in the Vietnam War. "However you felt about the war, we did not treat the war veterans right," he said.
New Yorkers and people from the tri-state area and beyond lined the parade route, waving flags and holding handmade signs that read "Thank You." Carol Allen and her family have been visiting the City this week from Florida. She says she made it a point to come, especially to support those who are currently serving in the armed forces.
"These are all the young people that are defending our country, you know, and they could be doing so many other things they don't have to be doing this. It's just a wonderful thing to see these people, they are our youth."
She was one of many people along the parade route who got choked up as they expressed their appreciation.
Army Sergeant Jennifer Ortiz is 26 and has already served three tours of duty in Iraq. She says it's her first time at the parade and the show of support feels incredible.
"It feels great just for us to be recognized, to see that we have a purpose, I guess, not everyone can do what we do, I love it," she said.
Sergeant Ortiz also works at a recruiting station upstate in Peekskill. She says one of the toughest parts of her job is convincing parents that the Army is a good career choice, despite the risks involved.
Margerita Borrreo from the Bronx understands, her son has already served one tour of duty in Afghanistan. She says she worries he will be sent away again.
"I know how hard it is for a lot of people out there whose children are in the service now also and I pay my respects. All you can do is let them know you are behind them and them 100 percent, that you love them and you pray hard the good Lord will have mercy on them and bring them back."
Carmine Cedrone from New Jersey was among the oldest parade participants. He served in the Navy in World War II and his four brothers served in other branches of the service.
"Right now, I'm 88-years-old and I'm the only one left of the four brothers and that's reason I come and I really look for some of the fellas I was with. I was wondering what happened with some of the guys I served with, I was on a sea-going tug and some of the supply ships."
In addition to seeing fewer of our World War II vets at the parade than in years past, this year marks the 60th anniversary of the start of the Korean War.
Later in the afternoon, members of at the USS Intrepid Sea, Air and Space Museum on Manhattan's West Side, members of the Marines, the Navy and former Intrepid crew members placed a wreath in the Hudson River in honor of America's fallen fighters.
New York City is home to an estimated 250,000 veterans.