A Dozen New Govs Will Follow Christie's 'No Taxes' Lead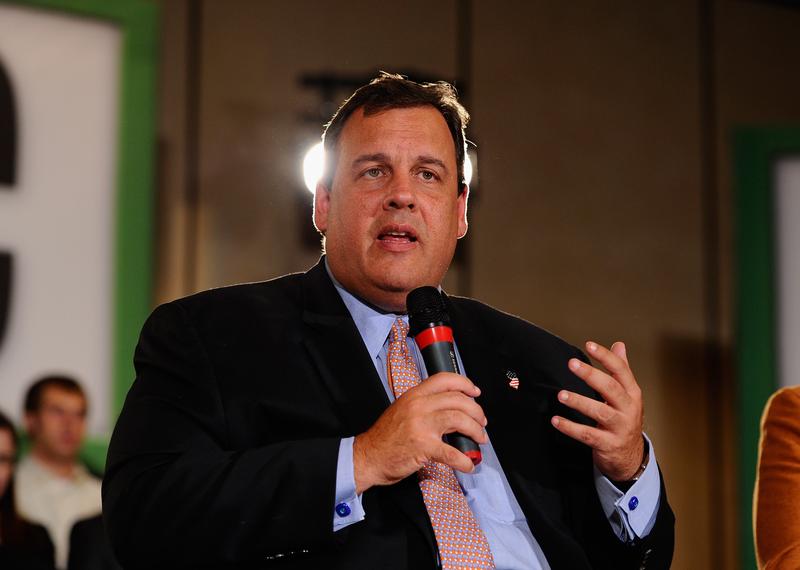 New Jersey Governor Chris Christie is a hard act to follow. He was elected on a platform of ridding his state of an almost $11 billion deficit—and promised to do it without raising a cent in taxes. He hasn't eliminated the deficit yet, but he has reduced state spending, cut education funding, given pink slips to all the state employees for its Public Broadcasting Authority, and refused to finish a mega-tunnel project between New York and New Jersey when it threatened to go over budget.
His hardliner attitude has earned him accolades and anger, and a dozen of the 37 newly elected and reelected governors took lessons from him on the campaign trail, copying his "no tax" frugality. Many of the governors-elect who promised not to raise taxes signed a written pledge with Americans for Tax Reform, an anti-tax advocacy group.
At last week's Republican Governors Association meeting, Christie was treated like a star, taking the stage with Minnesota's Tim Pawlenty, Louisiana's Bobby Jindal and others. Echoing Christie's opinion on raising taxes, newly elected Brian Sandoval in Nevada called it "the worst possible thing you can do" in a recession.
At the meeting, Christie led the charge that the most important thing to do to right now is close budget shortfalls. But critics counter that tax cuts alone will not stimulate the economy and get us out of the recession. Bruce Katz, Vice President of the Brookings Institution's Metropolitan Policy Program, says that even as the new governors make cuts, it's the long-term strategic investments, like transportation and infrastructure, that are crucial for rebooting the nation's economy.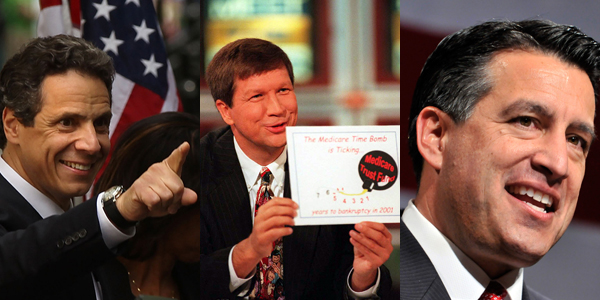 Three of the new "no-tax" governors (from left): Andrew Cuomo (D-NY), John Kasich (R-OH) and Brian Sandoval (R-NV).
Strategic investment will be hard to do without any taxes, but new governors like Brian Sandoval in Nevada and Tom Corbett in Pennsylvania are betting that their no tax policies will make their states business friendly, and get the economy moving that way. Corbett insists that a tax on the natural gas drilling industry, for example, would be crippling, and has promised to fight it tooth and nail. This is mobilizing environmentalists and local groups to force the state legislature to pass a tax in the lame duck session, which they say is necessary to monitor the industry and address environmental issues like the fouling of drinking water. The gas industry itself has even agreed to a severance tax in exchange for tapping the state's natural resources, but if Corbett changes his tune, he'll be viewed as violating his "no new taxes" campaign pledge.
"Wisconsin is open for business," was Wisconsin Governor-elect Scott Walker's campaign motto, but in his rulebook that means only business that can be wheeled in, not railed in. In an echo of Christie's transportation guillotine, Walker just refused $810 million of federal funds for a high-speed rail project in Wisconsin that would connect its biggest cities, because he wants the cash to be used for roads instead of trains. Transportation advocates in his state say the project would pave the way to a low-carbon future and create jobs now, but Walker maintains the costly project is not a worthy investment for a cash-strapped state. That was Ohio Governor-elect John Kasich's reasoning too, when he said he'd refuse $400 million for high-speed rail.
But no-taxes doesn't have to mean no-infrastructure investment, if you share an economic philosophy with the federal government. In a response to Kasich and Walker that demonstrated his opposing gubernatorial strategy, the sole Democratic no-tax new governor, New York's Andrew Cuomo, immediately wrote a letter to the federal director of of transportation, Ray LaHood, asking him to redirect the hundreds of millions of dollars for high-speed rail funding to New York, if Ohio and Wisconsin pass on it. "High speed rail could be the 21st Century Erie Canal for New York State and help rebuild Upstate New York's economy," Cuomo wrote. 
The success of these new "no-tax" governors will depend largely on how skillfully they'll be able to arm-wrestle their state legislatures, and how much they can follow Christie's example while maintaining public support. There's no question that in less than a year Chris Christie has been able to communicate his message startlingly better than President Obama. A majority of Americans mistakenly believe that taxes have risen under Obama, when in reality they've actually gone down. On the other hand, while Christie claims not to have raised taxes, many of his "cuts" may feel exactly like taxes hikes in the near future: cuts in transportation funding will result in riders paying higher fares, cuts for K-12 education will result in higher local taxes, cuts to the earned-income tax credit mean the working-poor will literally pay higher taxes.
The hidden tax shift demonstrates just how incredible Christie has been as a messager—and ultimately that is what determines a politician's success or failure in the public eye. Popular YouTube videos and edgy videos have burnished Christie's celebrity status. The 12 new no-tax governors may be copying his spiel verbatim, but that's no guarantee they'll be able to duplicate his appeal.