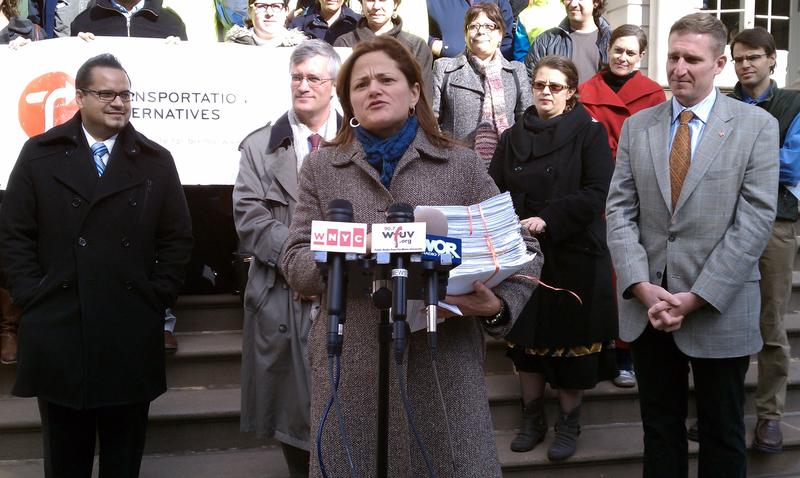 "No bike lanes to nowhere" was the message today from bicycle advocates, who were rallying on the steps of City Hall this afternoon to deliver about 2,500 handwritten letters to Mayor Michael Bloomberg.
The bikers want the city to follow through on a proposed plan to build protected bike lanes along Manhattan's First and Second Avenues, from Houston Street to East 125th Street. The lanes were initially endorsed by the city, but construction has stopped at 34th Street, with no plans to move northward at this time.
The rally, which was sponsored by Transportation Alternatives, drew about 50 people, including elected officials State Assemblyman Brian Kavanagh, State Senator Jose Serrano and City Councilwoman Melissa Mark-Viverito.
Mark-Viverito, who represents East Harlem, said that extending the lanes to 125th Street was only fair. "We're also talking about equity for our neighborhoods," she said. "Why should only Midtown get the benefit of having these protected bike lanes and pedestrian islands?"
Other supporters said the lack of lanes was a health issue. Kevin Chatham-Stevens, a pediatrician at Mount Sinai, said that East Harlem suffers some of the highest rates of childhood obesity, asthma and diabetes in New York City. "We must stop viewing the bicycle as a recreational toy," he said, "and view it as what it is: a tool by which we can improve individual and community level health."
Assemblyman Brian Kavanagh said that ending the lanes at 34th Street discouraged bicycling. "If you have a very nice bike lane that goes a certain distance, and then just abruptly ends and dumps you into an ordinary NYC street, it makes it a much more questionable decision whether you should get out there on the bike in the first place."
So why did the city stop construction? Earlier this year, Janette Sadik-Khan, the city's transportation commissioner, said that it would be "impossible" to finish the lines in 2010 but that she hoped to do so in the future. However, a statement issued today by DOT spokesman Seth Solomonow didn't seem to share that same feeling of optimism. "The current protected lanes on First and Second Avenues were only recently installed as part of this transit mobility and safety project," he wrote in an email, "and we will continue to monitor the entire corridor before making any additional installations."