A Decade After 9/11 The NYPD Toll Continues to Mount
On September 11, the Department lost 23 officers, mostly from its Emergency Services Unit. Twenty-nine NYPD officers have died since of 9/11 of related cancers and respiratory illnesses, according to the NYPD.
This week the badges of those 29 officers were installed at the NYPD's museum in lower Manhattan.
Police Commissioner Ray Kelly says a comprehensive medical review was done before declaring that these officers's deaths were 9/11-related. "Our medical team pension board makes these determinations looking at all the evidence, looking at the amount of time the individual spent at Ground Zero or the Fresh Kills land site," Kelly said.
The badges and a series of paintings documenting the Ground Zero recovery effort will be traveling to Washington D.C. and displayed in the Capitol, while the U.S. Senate deliberates the a multi-billion-dollar long-term fund to cover thousands of people coping with post 9/11 health issues. The House passed a bill earlier this year.
Rona Mauro's husband, Officer Vito Mauro, died in 2008. She said before 9/11, Mauro served for 18 years in Brooklyn's 67th precinct. He worked at Ground Zero for just two weeks. She says the families of sick officers will need all the help they can get.
"We were so busy concentrating on trying to get him better, that's all we did for almost a year and a half. We were running around from one doctor to another to find something, some kind of hope," recalled Mauro.
Janice Schwarz lost her son, officer Thomas Brophy, in 2005 to a 9/11 related illness. Schwarz said she has a second son, a New York State trooper, who worked along side his brother Thomas. She said her son, the trooper, is now constantly monitored. Schwarz said she's confident the badges of the fallen officers on display in the Capitol will be a daily poingnant reminder for the Senators.
"When they walk by there every single day, they're going to be reminded of these officers that gave their lives, because of what happened," Schwarz said. "And I think they will recognize and commission to do more for these officers who are so sick. There are so many out there."
The series of paitings that will accompany the badges to Washington are by well known court artist Aggie Kenny. Kenny was given access by the Salvation Army to the recovery effort at Ground Zero. She was not compensated for her work, but said she is gratified that it is headed for Washington.
So far, the NYPD has approved more than 1,400 9/11 related health claims from members of the Department and rejected close to 500. Almost 900 NYPD employees have filed Ground Zero-related disability claims. A little more than a third of them have been approved.
Overall, the 9/11 health registry is tracking over 70,000 people with some exposure to the Ground Zero environment during the recovery and clean-up effort.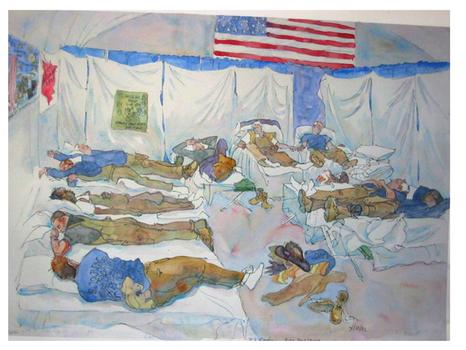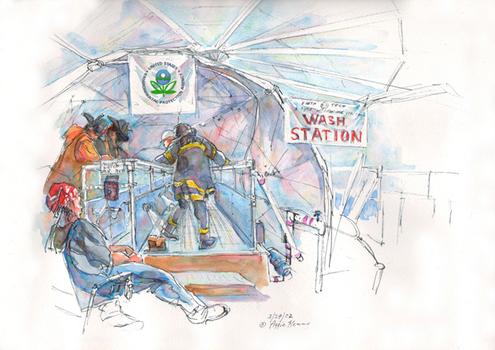 of