During Downturn, City Adds Record Number of Hotel Rooms
Jeff Lam bet on Harlem in 2007, and soon he's going to see whether that bet pays off.
His hotel, the Aloft Harlem, is the first brand-name hotel to open in Harlem in decades.  
Lam is one of many developers in New York City who secured financing for new hotels before banks began to crumble and the price of a hotel room dropped 30 percent. Since it takes about three years to build, those hotels are only now coming onto the market, says Bjorn Hanson, a professor at New York University.
Since the financial crisis hit in September 2008, with the bankruptcy filing of Lehman Brothers, the city has added a record 9,200 hotel rooms, about 10 percent of total supply, according to industry tracker Smith Travel Research.
"Harlem was gentrifying tremendously. And we wanted to be part of that gentrification," said Lam, 28, who owns two other Manhattan hotels. He's tried to stay optimistic these past few years. "When we were building this, I kept that in my mind, saying that 2011 and 2012 will be when the market returns."
So far, Lam's projections aren't too far off. In September, room prices in New York City were up more than 10 percent from a year ago. Hotel occupancy rates are also up. And it's happening even as more hotels are coming onto the market -- 15 hotels have opened in Manhattan alone so far this year -- competing for customers who are feeling more frugal.
"The growth that we're seeing now is indicative of New York's strength," said Bradley Burwell, a senior associate at the commercial real estate firm CB Richard Ellis. He said before the financial crisis, Manhattan hotels had to turn customers away because there was so much demand, and hotels in the outer boroughs and New Jersey picked up that business. Now because of lower rates and less demand, customers are returning to Manhattan.
Professor Hanson said business and convention travel are also up from last year, helping an industry that suffered greatly last year. "More than half of the hotels in New York in 2009 didn't generate sufficient cash flow to meet their debt obligations," Hanson said.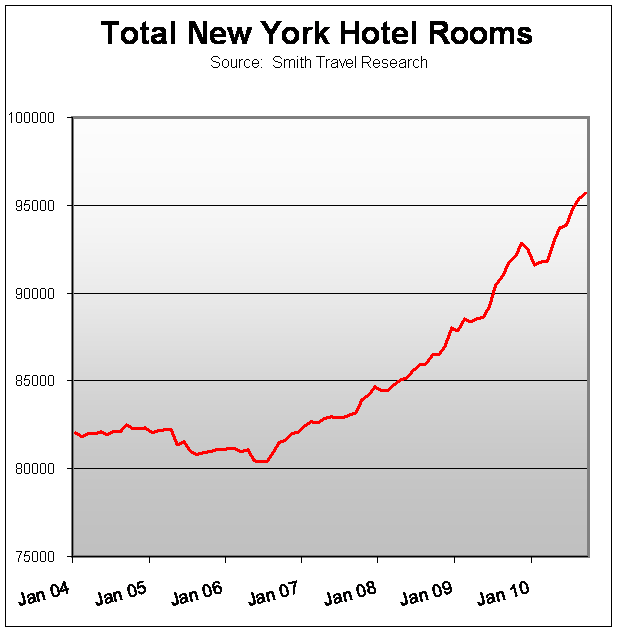 One of the biggest hotel developers in New York City, Jeff Lam's father, John Lam, said 2009 was a tough year. "We're still making some money," said the elder Lam, who has built about 20 hotels across the five boroughs, including the new Sheraton in downtown Brookyln.
During the recession, Lam said he was able to keep his costs down because his hotels are mostly limited service hotels and don't offer a lot of amenities. He also beefed up his sales and marketing team to chase new segments of travelers. For example, when U.S. business travel dropped sharply last year, he focused on overseas travelers, mostly from Asia.
And when well-known national banks stopped lending, Lam, who emigrated from Hong Kong, relied on Chinese-American banks, which continued to lend to him. "All the decision makers. They really good friends of mine. They really know our business and they feel comfortable with it," he said.
Tapping into your base is also Ian Reisner's plan. The banker turned developer is raising money, mostly from gay investors, to build a gay-friendly hotel on the far west side of Midtown. He's converting what used to be a homeless shelter into what he calls the first gay urban resort. He expects to open next year.
"Gay people in general are gentrification experts. They love to be creative and turn crap real estate into something special maybe because they don't have kids," he said.

And the fact that many don't have kids means they have more disposable income to spend on travel.
"We're in a city with no gay hotels, and 7 million people coming here a year, and I have to fill 125 moderately priced boutique hotel rooms at roughly $250 a night. I think that's a no brainer," Reisner said.
Unlike John Lam, Reisner's hotel will be filled with amenities. He's planning a lap pool, gym, and night club. Lucky for him, he's entering the market when the price of real estate has fallen and the price of hotels rooms is climbing again. 
Note: The original radio story misidentified John Lam. He's the city's second biggest hotel developer. Also, the Aloft Harlem has delayed its opening to next month.
Map of New York City Hotels opened (green) and hotels planning to open (red) in 2010

View New York City Hotels Opened (in green) and Planning to Open (red) in 2010 in a larger map