Shake Shack Comes to Brooklyn
Over the last few years, downtown Brooklyn has changed dramatically with an infusion of imposing residential towers and affluent new residents. But up until now, those changes haven't meant much to the Fulton Street Mall. The pedestrian mall, which takes over Fulton street and transects downtown for 10 blocks, is still laced with 99-cent stores, pawn shops, and discount retail outlets, providing a scruffy yet affordable shopping destination for Brooklynites.
Predictions about the mall's inevitable upscaling have circulated for years, but now it may as well be official: the Shake Shack is coming to Fulton Street. On Tuesday, Borough President Marty Markowitz and Shake Shack officials made the announcement official by publicly eating the gourmet fast-food joint's coveted ShackBurgers on the steps of Borough Hall.
"I couldn't be happier. But I got to ask you, Danny...what took you so long?" Brooklyn Borough President Marty Markowitz asked Danny Meyer, the restaurateur behind Shake Shack. Meyer is also the man behind Manhattan businesses Union Square Café and Gramercy Tavern. Employing his trademark Brooklyn regionalism, Markowitz answered his own question: "All those other Shake Shacks were the minor leagues, practice for the big stage–Brooklyn, USA."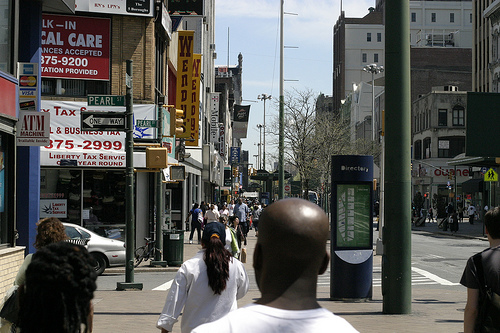 The first Shake Shack opened in Madison Square Park in 2004, and quickly became known for its gourmet take on fast-food staples, as well as for its around-the-block lines. Since then, Meyer has opened up four more locations in the City, as well as outposts in Miami and Saratoga Springs. The Brooklyn restaurant is expected to be open for business by next summer, according to Randy Garutti, Shake Shack's chief operating officer.
Shake Shack's decision to come to the Fulton Mall follows similar bids from international retail chains. Filene's Basement and H&M are scheduled to appear along the mall in the future, as is an Aeropostale store within a few weeks. In October, Barneys' "edgier" Co-Op franchise opened nearby on Atlantic Avenue, bringing a touch of high-fashion to an area long prized for its independent boutiques.
While there aren't many boutiques to speak of on the Fulton Mall, there are plenty of businesses, namely shoe, jewelry and linen stores, and any new arrivals are bound to edge others out. "There's always that worry," says Councilwoman Letitia James, who represents an adjacent district. "It's critically important we maintain retail businesses that have historically existed in the mall while also appealing to a wider audience. It's a delicate balance."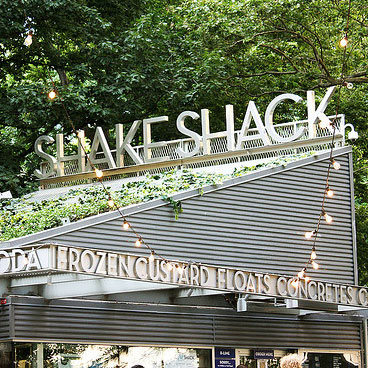 Still, Councilwoman James says she's looking forward to the new jobs that will be created Shake Shack and the others. The restaurant will create 70 local jobs, and is committed to hiring from the neighborhood, according to C.O.O. Garutti.
Hiring local was stressed at Markowitz' Borough Hall announcement on Tuesday, but Markowitz spent most of his brief address praising the food. "Shake Shack has the cache, the reputation and the tradition of excellence to become the latest jewel in Brooklyn's culinary crown," he said. Then, referencing another, more controversial Brooklyn development project, Markowitz added, "And pretty soon, hungry sports fans will fill the Barclays Center to watch the Brooklyn Nets mop up the floor with the Manhattan Knicks."
Christine Black contributed to this story.