Cuomo's Circle: Who Might Head to Albany?
[Update: Gov-elect Cuomo announces members of his transition team. Read about it here.]
The top dog in New York is the leader of a very large pack—and a lot of barking is letting loose about who will be part of Team Cuomo in Albany.
The governor-elect has been part of the political scene a long time, and he's got a tightly knit inner circle, who many suspect will follow him upstate.
No appointments have been officially made—but whispers have started in the Wall Street Journal and other publications. Here's a primer of some of the contenders for top jobs in the Cuomo administration. This list is neither official nor comprehensive, and we'll keep you posted as we learn more. 
Josh Vlasto, a Cuomo campaign spokesman, would not confirm or deny any of these names at this time.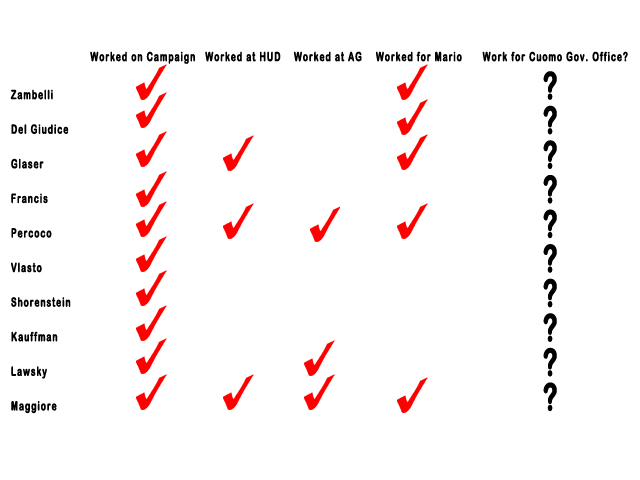 Andrew Zambelli, a long-time Cuomo family backer who is in his 60s, served as Director of Communications and Chief of Staff for Andrew's father, Mario. Zambelli managed polling and media strategy for Andrew Cuomo during his gubernatorial campaign and seems likely to get a top post. Zambelli was previously a marketing executive.
Michael Del Giudice, 67, who served as Mario Cuomo's chief of staff in the 1980s, is a big-wig in Cuomo's set. Del Giudice is a former investment bank manager and is now the lead director on the board of Consolidated Edison and the vice chairman of the New York Racing Association. He worked on Andrew Cuomo's campaign and has extensive knowledge of Albany.
Howard Glaser, a housing expert who was Cuomo's Deputy Counsel while he was Secretary of the U.S. Department of Housing and Urban Development and also worked for Andrew's dad, will surely be in negotiations for a job. Glaser has defended Cuomo's role at HUD, and Glaser himself claims to be an early critic of abusive lending practices and lax regulation by the federal government. Glaser was an unpaid advisor for Cuomo's gubernatorial campaign.
Paul Francis, 55, a former venture capitalist who led Cuomo's campaign policy team, served as Budget Director for former Gov. Eliot Spitzer. Francis, like Del Giuduce, has a background in business. He was a senior executive in Bloomberg LP's financial products group, chief financial officer at Princeline.com and Ann Taylor Stores, and a managing director of Merrill Lynch. The New York Times called Francis Cuomo's "favorite wonk" and "cerebral and cautious."
Joseph Percoco, 40, an extremely private figure known as Cuomo's "whip," has been at Cuomo's side for nearly two decades. He was one of the few campaign loyalists to stick with Cuomo after his embarrassing 2002 gubernatorial campaign and helped him with his run one eight years later. Percoco has been called "fiercely loyal" to Cuomo and is one of his most trusted advisors. This year, Percoco acted as Cuomo's campaign manager.
Josh Vlasto, 28, is the lead press guy for the Cuomo campaign. At a tender age, Vlasto cut his teeth working as press secretary for Senator Charles Schumer. He hails from a politically involved family: both his parents worked for Governor Hugh Carey.
Marissa Shorenstein, 31, served as Director of Communications for the Cuomo campaign. Shorenstein recently served as a top aide and spokesperson for Governor David Paterson, but stepped down after drawing attention for "unwitting involvement in recent news events," i.e. making a phone call to Sherr-Una Booker, the woman who had filed an assault claim against David Johnson, the Paterson's aide. She worked in Al Gore's presidential campaign and for the New York Jets. Even more than Vlasto, Shorenstein comes from a deeply rooted New York political family. Her great-great uncle, Hyman Schorenstein, was the legendary party boss of Brownsville, Brooklyn.
Peter Kauffmann was Communications Director for Gov. David Paterson until he resigned over the World Series Yankees game scandal, in which Paterson obtained tickets questionably. Kauffmann also served as press secretary for Hilary Clinton when she was senator and in the U.S. Navy. Kauffmann took a leave from his job with the College Board to work as a senior advisor on the Cuomo campaign.
Ben Lawsky, 40, a lawyer and advisor to Cuomo who helped investigate high-profile cases including the student loan industry and an inquiry into Wall Street bonuses, is a top contender for a role in the Governor's mansion. Lawsky is Cuomo's special assistant in the AG's office, and a former judiciary counsel to Schumer. He helped with the campaign too. The New York Times says he has a "softer touch" than some of Cuomo's other more "aggressive" aides. 
John B. Maggiore, 42, is a long-time Cuomo supporter in Buffalo. He worked for Mario Cuomo until the end of his term in 1994, and later worked for Andrew at HUD. When Andrew became Attorney General, Maggiore became his policy advisor, and most recently, Maggiore worked in the political campaign. 
Juanita Scarlett, is a well-connected Democratic operative based in Brooklyn. She's done press and communication work for the Attorney General's office for Cuomo and his predecessor, Eliot Spitzer. Scarlett also helped out on the campaign, reaching out to African American communities.
Charlie King has run with, and against, Cuomo. In 2002, King was Cuomo's candidate for lieutenant governor. Prior to that, the two worked together at HUD. In 2006, when Cuomo ran successfully for attorney general, King was one of his Democratic rivals. They campaigned hard against one another, but King wound up supporting Cuomo's effort when his victory became apparent. In April of this year, Cuomo installed King as executive director of the New York State Democratic Party.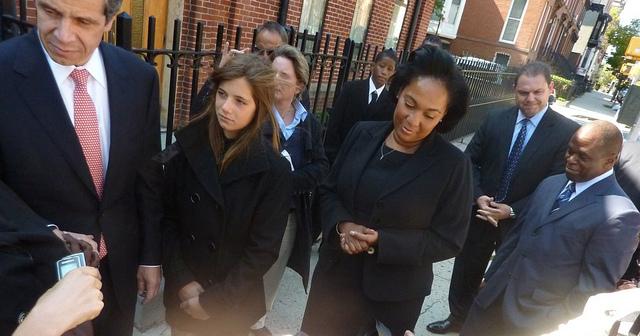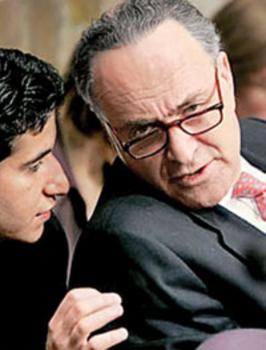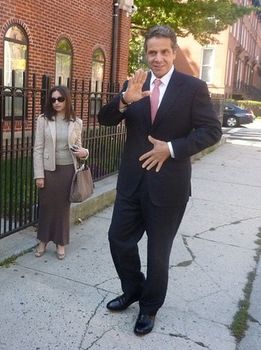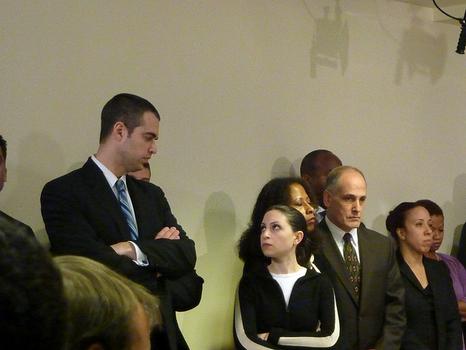 of