Businesses on the Coney Island Boardwalk Receive Their Marching Papers
Many longtime shops, eateries and concessions on the Coney Island Boardwalk will close next season.
They were denied lease renewals by Central Amusement International, the company that controls the boardwalk and operates the new Luna Park amusement area. CAI had asked eleven businesses to show how they intended to modernize and improve their operations by requiring them to submit business propsals.
Carol Albert is the former owner of the now defunct Astroland amusement park and still runs the landmarked Cyclone roller coaster. She admits that she may step down as operator next season because of rising costs. But that's different than being forced out. She says boardwalk owners aren't exactly shocked, but they're sad.
"People are upset, there's just no question about it and you know when you've been in business for a long time and suddenly you're told you can't do it anymore, of course you're going to be upset," she said.
Among the businesses that are closing are the 76-year-old bar Ruby's, Paul's Daughter, Gyro Corner, Beer Garden and the paint ball attraction "Shoot the Freak."  The only concessions that have received confirmed leases so far are Nathan's Hot Dogs and the Lola Starr Souvenir Boutique.
Spokesman for CAI, Tom Corsillo, says it plans to invest millions of dollars in a resurgent boardwalk featuring world class entertainment, dining and retail stores.
Specific plans haven't been released except that CAI is looking to invite tenants who will open a sit down restaurant and a sports bar, which will both operate throughout the year.
Coney Island History Project's Charlie Denson says updating the boardwalk shouldn't mean removing the old timers.
"The fact that we're losing all of them at once is really a shame -- it's not as if one of them went out of business and is being replaced, it's really a clean sweep of the boardwalk. If that was their intention, they should have let them know from the beginning."
Businesses that didn't receive new leases have been told they have 15 days to vacate.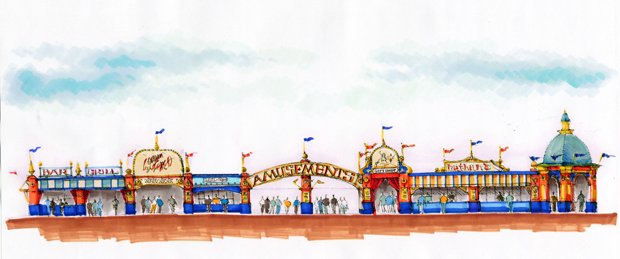 Proposed image of a future Coney Island.