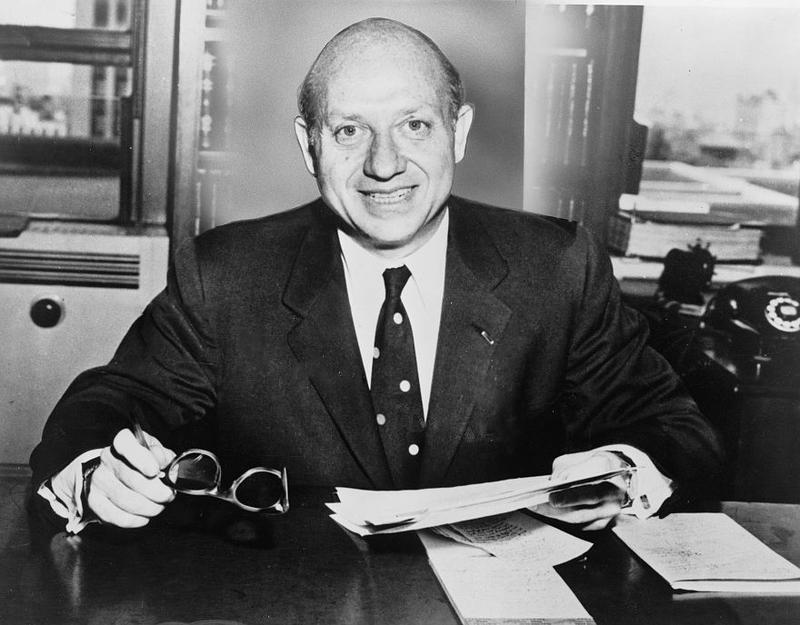 Summary
This episode is from the WNYC archives. It may contain language which is no longer politically or socially appropriate.
Gabe Pressman hosts. Rep. Jacob K. Javits, candidate for Attorney General for the Republican state ticket against Franklin Roosevelt, Jr.

College newspaper editor panel: Martin Birmingham of Washington Square College and Fred Goldsweig of the Heights Campus of NYU

Questions:

Legitimacy of bribery charges against Averell Harriman by Senator Irving Ives. Mr. Roosevelt's consisted absence from Congress roll calls. FDR, Jr.,'s ties to Tammany Hall. The problem of Communism, comments by McCarthy against the Democratic Party. Unemployment. Ability to work closely with Senator Ives. Specific points against FDR, Jr.'s record.
Audio courtesy of the NYC Municipal Archives WNYC Collection
WNYC archives id: 71915
Municipal archives id: LT3004
Transcript
This is a machine-generated transcript. Text is unformatted and may contain errors.
Congressman Javits Why do you think you should be elected rather than F.D.R. Jr you think communism is an issue in this campaign for the answers to these and other questions listen now to the campus press conference a transcribed public service presentation in which college newspaper editors interview personalities in the news your moderator is Gabriel Pressman staff writer for The New York World Telegram and sun and here he is good afternoon and welcome to another edition of campus press conference our guest today is Representative Jacob K. Javits candidate for attorney general on the Republican State ticket. Our panel consists of Mark in Birmingham of Washington Square College and Fred's goals why the heights campus of New York University and now I see the first question is from Fred goals why Congressman Chaffetz generally speaking don't you think taking things out of a man past more than thirty years ago verges on political smear. No I don't and I'll tell you why I have no opinions as to the merits of the controversy affecting most parents and terms of the integrity situation and he will fight that out with Senator arrives and indeed is doing it now but I do believe that you have a right to test the man's career in terms of his capability to hold a very important office in terms of competence and sharks and I think that as far as the the public is concerned that is an equally important issue with the first one which is now being fought out between the man who made the charge and the man against whom we made almost a ham and I thought I've been reluctant to answer these charges saying that he would fight on the issues rather than on the past but I think it is an issue and I would hope that Mr Hammond would addressing himself to the the factor as to his competence to run a big show like New York and terms of his competence to run a company where this was happening I don't think there's any question about the fact that it did happen and I think that for that that is an issue to which I would hope he would addressing So what do you think of kind of the langurs statement the other day who the Republican of not the culture and the Senate that he investigated brought charges against Mr Harmon three years ago and found them entirely unsubstantiated Of course that's again one man's opinion and I'm even not I'm not even advancing my opinion I'm only pointing out that the the lying in there anybody else has said Can a man run the state of New York in whose company this happened when he was chairman of the board of directors in terms of competence not in terms of integrity of that as I say is a separate argument perhaps lying is a statement that is upon that and therefore. I would hope that Mr Hammond would address him selfe to that point why didn't Senator I question it then in the Senate why did he vote for confirmation why I think Martin he's explained that this morning I read that with great interest to early claims that he didn't know the facts on the matter fact langar didn't disclose them as on the stand it until Senator I got into this campaign began to look into his opponent's record which I think is very logical I imagine the opponent has looked into his record pretty carefully to what was a pretty important point and I think I've done some investigation on his own after all he is asking that as the chairman of the board Mr Chairman I should have known things that were done under him and very often the chairman of the board is a if not an honorary position one is not in the mainstream think you could investigate if there was a big scandal and I think the I think that asking a little bit more of those members of the side of the house so many appointments. To approve them they can do unless something either comes to their attention or they have some suspicion or the committee develop something you see the Judiciary Committee I imagine was a committee which was considering that particular confirmation according to the papers it would be anyhow and that's the way it generally works in the Senate you must understand they have an enormous number of those appointments and you could hardly hope that any senator on either side would be able to separately investigate each one himself they have to depend upon the machinery of the Senate or some pip or something which is brought to their attention. Well do you think that Harriman then should have known what was going on under him in a position as chairman of the but I say that one would expect that he would not in terms of again I repeat of integrity but in terms of running a big show like the state and the arc as demonstrated by your competence in running a large corporation as I say I would hope very much that he would addressing herself to that point do you think on the facts as we now know them that there was a bribe and he was chairman of the board do you think it disqualifies him to be governor Well now that is the assertion which is made by Senator I was and it's my opinion that unless he gives some explanation of the question of his competency in running that company as compared with his running the state of New York it's a very material factor in his competence to run the state of New York as governor of Congress and I'm just giving this another twist assuming that Mr Herman was the L.T.A. of these things actually he did profit make profit for his company he did get to get rid of these peers and A did as far as these mines go make a profit that shows he's a pretty capable manager does let's tackle from a strictly business point of view where our costs of harm of going to climbing knew nothing about what went on right under his hands and then he's going to claim that he's a very smart business manager then we must assume a lot more if there's a lot more to the charges than even higher amount of Metz and otherwise if he's that smart then he knew exactly what was going on and that's pretty stats pretty it's going to be a pretty sad mess as to Birmingham How do you why didn't the Republicans make these charges earlier in the campaign a great many people of course the thought that this is a desperate move because certain polls are shell that they are making a surprisingly weak showing Well you must remember that this is a very short campaign and I imagine that the political party save up their ammunition all the time and I should guess that that they will be at the other charges in the campaign just a supposition on my part I think the governor only knowing something about how campaigns run Governor Dewey said there would be some more charges be made you know of any. I don't know any We don't want to jump the gun on the go either not a matter of jumping the gun I just don't know and these are matters which government do we apparently and Senator I've been working on and as you all know both know I have my own campaign which I'm waging very hard as well as my campaign for the ticket do you think these charges would have been made if the preliminary polls showed the Republicans well in the lead all without any question I have no doubt that the whole thing will come out just the same and so this race in the first place one can assume on the polls with That's it in the first place the polls are very close and the papers taking the polls are very careful to point out that it all depends upon how much of a vote there is in the city and upstate but I don't know why it's aren't going to a congressman getting to your campaign you have been making charges against F.D.R. Jr that his voting record and his attendance record was exceedingly poor Now you're referring to his first term in Congress or a second time referring to all those terms in the Congress and I've given the facts and the figures on each and I've yet to hear an answer from my opponent Mr Roosevelt I was on the impression of the second term has had a pretty good attendance from a throw of well I'll give you the figures on all of them in the Congress if you'd like to have them we've analyzed them these are on roll call votes and one hundred forty nine forty four percent and one hundred fifty sixty four percent and I'd like to compare that with my own in one nine hundred fifty I was eighty four percent and one hundred fifty one sixty eight percent I was seventy eight percent and one hundred fifty to sixty five percent for Mr Roosevelt I was eighty six percent in one thousand nine hundred fifty three seventy two percent for Mr Roosevelt I was eighty nine percent and one hundred fifty four forty four percent for Mr Roosevelt I was ninety nine percent total overall average for roll call votes from one hundred fifty three one hundred fifty four sixty three percent less than two thirds for Mr Roosevelt eighty six percent for me that's the record of what does this mean that he that he didn't cast a vote or that he was just absent or what exactly and while I. Known that he was absent when he didn't cast a vote I could hardly conceive of a sitting around that he may have been paired off with some other Republican but the payoff we've been through that before pairing is like saying you're for a candidate and then not going to the polls to vote during doesn't mean anything I have no objection to a member announcing how he feels about an issue that's fine but you can't then pretend that you were there and voted in the way that it counted and Mr Roosevelt that exactly that and the brochure which he distributed to the delegates of his own Democratic State Convention and which he claimed credit for being recorded eighty percent of a shoes in one session ninety percent and another without telling him that most not most of it but a good deal of it was Perry pairing just doesn't count when you cast the vote you're representing your constituents when you pay if you're giving your statement that that's the way you feel about the thing Mr Oswald as qualified as a lawyer for the highest legal position in New York State I just the highest in the country I do not I do not feel he is qualified by legal experience and training to hold this job and I'm amazed that he was nominated for for that very. Well there are about the three Javits that what would you attribute to what would you attribute Mr Roosevelt excessive absence as you put it I haven't any idea I think that's something for Mr Roosevelt to account for as to why he was absent from the Congress is often that he was I'd like to point this out to you in one thousand nine hundred fifty four the fail to vote on fifty six percent of the roll call vote my percentage was ninety nine percent and I stated in my own speeches that people that might shrug that off and say well he was trying to be the candidate for governor in one hundred fifty four but I'd like to point out that in one thousand nine hundred fifty three when I was trying to be the candidate for mayor my of my percentage of voting on roll calls was eighty nine percent and I think that's a pretty fair measure of the difference between how seriously the two men take their duties is it possible that he was at committee meetings or other. Congressional benefits at these times do you have figures on that or as far as so many meetings are concerned the committee meetings held in Washington do not interfere with the vote the committee always adjourns or recess is to allow members to vote and I cannot conceive of Mr Roosevelt's being in Washington without voting that might happen and one case out of one hundred or something like that you might sometimes be a government department but it's just inconceivable in those terms this record was made because he just wasn't there on that job and he ought to account for why not do his own constituents and to the people of the state Congressman do you think this is the chief issue between you and Mr Roosevelt No I don't I think it's a it is an issue which bears upon the seriousness with which he attends to his duties and I think that people want a full time attorney general is going to do is job not just a follow on to make a hard campaign I think the question of his competence a lawyer is very important and I think finally and very important is the fact that he would handpicked by the boss of Tammany Hall with all of its tradition of what Tammany Hall means in our town despite the fact that he made a big play of fighting Tammany Hall and. And couple of hours when they denied him the nomination for governor he threw right in with them I think that's a very important factor both as to the character involved and this to how it operates this office if it got to Albany and I don't think the people of the state of New York want an attorney general handpicked by the boss of Tammany Hall and beholden to I'm obviously after a loss that the Roosevelt lost the Democratic gubernatorial nomination in the face of the record of Tammany Hall and the very recent revelations about it by the State Crime Commission and the fall of a committee showing gangster infiltration it separate. That's a jab at the papers had a story the other day which that there is still a feud between combine the savvy of the leader of Tammany Hall and that the sappy Oh opposing the future Roosevelt and I'm in a if you would be famous to discipline him and Mr Roosevelt I think anybody who read Life magazine and saw most of the sappy all running the Democratic State Convention just couldn't believe that the fact is that he ran it that he had defeated Mr Roosevelt himself that he told him in advance he would defeat him that he did and then he put him on the take it for attorney general and no one doubts certainly from reading the press and all the evidence that the boss of Tammany Hall was running that convention completely from what you've said here Congressman Jarrett I gather you do not see any fundamental difference in issues between you and Mr Roosevelt I do I deny today I see a fundamental difference in some of the issues which he is which he had broached After all you must remember he's made his campaign very largely as a figure running for governor he has made his campaign on the attorney general's office I've come up for example with some things the attorney general office could do in terms of juvenile delinquency in terms of the end of trust laws out of the state out of trust laws in terms of Narcotics Control Mr Roosevelt the other day for example upstate said that he was a great friend of small business he was opposing Is there a great champion I pointed out that on a bill in the Congress a year ago which small business was desperately anxious for which was a bill to permit small business to compete with chainsaws by allowing the manufacturer to establish a price on branded items this is very important to small business I voted for the bill and I worked for Mr Roosevelt voted against it so that there are some issues and we've developed them as the campaign has gone along getting back to Mr Roosevelt effectiveness