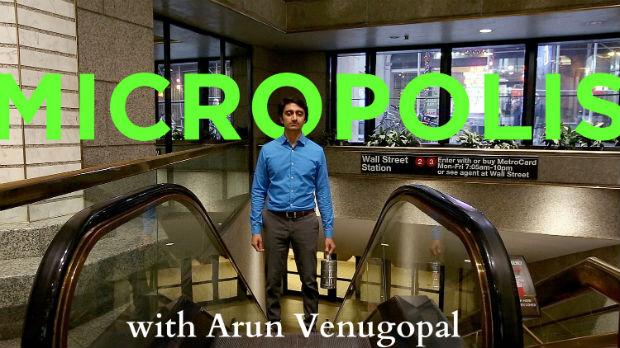 Micropolis is a series that takes you behind the lives of New Yorkers — through the lens of race, gender and identity. With WNYC's Arun Venugopal as the guide, the show introduces you to neighborhoods and people you otherwise might never get to know. The series ranges widely across the urban landscape, illuminating conversations about issues as diverse as skin color, the rules of racial humor and arranged marriage. It's a face-to-face encounter with New York.
Recently in MICROPOLIS

Monday, April 07, 2014
In the '60's and 70's "Black is Beautiful" became a rallying cry for African Americans. Yet within the South Asian community, lightening products are a multi-billion dollar industry promising complexions and "whitish" skin tone. 
Read More

Monday, April 07, 2014
Arun Venugopal speaks with Brooklyn rapper Talib Kweli about music, memories and the good and bad of gentrification.
Read More

Monday, April 07, 2014
Could it be that your family knows better than you when it comes to your love life?
Read More

Monday, April 07, 2014
Alvin Entzminger, an ex-con and a long-time Central Harlem resident, shows you what you're overloooking.
Read More

Monday, April 07, 2014
Reporter Arun Venugopal talks to Amber Ruffin, writer for Late Night with Seth Meyers, about how comedy is subverting racial stereotypes.  
Read More

Monday, April 07, 2014
As a South Asian growing up in Texas, Arun Venugopal never thought twice about eating with his hands while at home but in public in front of his friends and strangers alike, it was a different story. Arun hits Wall Street to see if this taboo of his childhood is still relevant in NYC today.
Read More

Monday, April 07, 2014
Video blogger Franchesca Ramsey talks with Arun Venugopal about how African Americans and South Asians view pigment.
Read More

Tuesday, September 10, 2013
In this latest episode of Micropolis, we examine the age-old persecution of Sikhs, from India to post-9/11 America. Why do Sikhs such as actor Waris Ahluwalia (Inside Man, The Darjeeling Limited) identify with the racial history of African Americans?
And why, despite persecution and name-calling, do Sikh men continue to wear turbans?
Read More