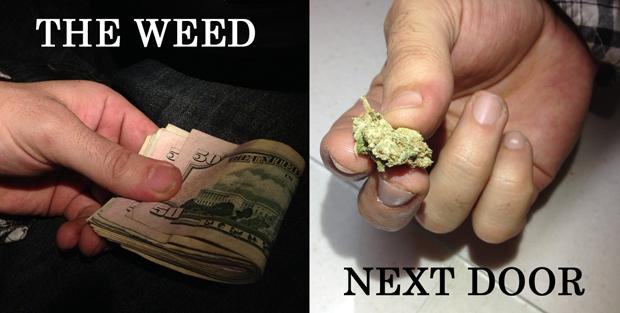 The marijuana market is booming in the Big Apple, but the majority of people who drive it are rarely under the magnifying glass. "The Weed Next Door: How legalization is changing the marijuana landscape," looks at pot culture in New York and New Jersey and how legalization in other states is affecting it.
Recently in The Weed Next Door

Tuesday, June 11, 2013
The waiting area of the Brooklyn Family Courthouse isn't where you'd expect to find a Columbia University neuroscientist. But Carl Hart isn't your average professor.

Friday, May 10, 2013

Jake's life started out just right. He lived in a nice house on a nice block of the sophisticated New Jersey town of Montclair. His dad worked for the NFL, his mom a couple days a week in finance.  As long as Jake and his older brother did well, their parents weren't overly concerned about a little partying here or there. Until Jake started to turn into someone they didn't know.

Thursday, May 09, 2013

May 9, 2013 —
As 17-year-old Radio Rookie Temitayo Fagbenle puts it, "Once you reach high school, weed is a part of your life." Even if you don't smoke, marijuana is at parties, the corners and parks near schools, and sometimes in school stairwells.

Tuesday, May 07, 2013
The phrase "medical marijuana" has a nice clinical ring to it, but doctors and researchers are divided on the data: some are confident that smoking pot can help a wide range of pains and other symptoms. Others remain skeptical.

Monday, May 06, 2013
Meet Chuck, a San Francisco marijuana dealer. (That's not his real name. We agreed to keep that to ourselves because, otherwise, he wouldn't talk to us.) Chuck came to New York from California to sell weed because, here in New York, where his trade is 100% illegal, he can make more money. 

Thursday, May 02, 2013
Mark Kleiman, co-author of Marijuana Legalization: What Everyone Needs To Know, kicks off a May series on marijuana with a look at who smokes and why. Plus: your calls on whether you're seeing a public opinion shift.