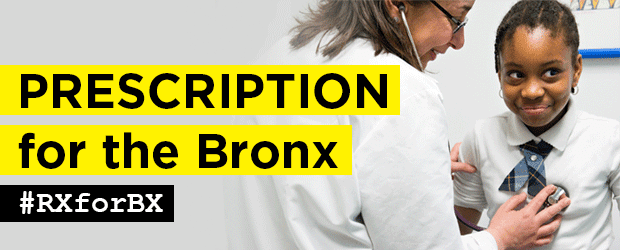 For the last five years, the Bronx has ranked as the least-healthy county in New York State. 
This spring, as part of our ongoing coverage of the Affordable Care Act, WNYC has embedded itself in this borough with the goal of seeking out innovative initiatives in healthcare reform.  
The Bronx stands out nationally for healthcare challenges that are especially difficult to tackle: heart disease, diabetes and asthma, all exacerbated by socio-economic issues like high unemployment and poor housing.
Over a week of programming, we hope to answer this urgent question: what will heal the Bronx?
WNYC reporting on healthcare policy and economics is supported in part by The Alfred P. Sloan Foundation, enhancing public understanding of science, technology and economics. More info on Sloan at sloan.org.
Recently in Rx for the Bx

Friday, June 06, 2014
Steering students toward healthcare careers, HERO High aims to tackle several endemic problems in the Bronx: unemployment, poor health, and high college drop-out rates.

Thursday, June 05, 2014

Thursday, June 05, 2014
Mary Barron grapples with dementia, but Bingo helps her get through the day.

Thursday, June 05, 2014
The Bronx always had a lot of food. It just wasn't good food.

Wednesday, June 04, 2014

Wednesday, June 04, 2014
With three kids and a full-time job, Jean's life was already full when she was diagnosed with cancer. Then she met Sonia.

Wednesday, June 04, 2014
There's no doubt Lissette Encarnacion needs her subsidized, supportive housing. But is her apartment a form of healthcare? And if so, who pays for it?

Tuesday, June 03, 2014
Emergency rooms are expensive, and by the time people get there, things are likely pretty bad. That's why one hospital in the Bronx is trying a new tack — calling patients to coordinate their care.

Monday, June 02, 2014

Monday, June 02, 2014
In 1970, Lincoln Hospital in the South Bronx was one of the worst in New York City. Then came the Young Lords — and everything changed.

Monday, June 02, 2014
People in the Bronx have excellent access to health care. So why are so many of them so sick?

Friday, May 30, 2014
As part of our Prescription for the Bronx project, WNYC asked photographers at the Bronx Documentary Center to tell stories about health in their own communities BY photographing Bronx residents with their "lifelines."