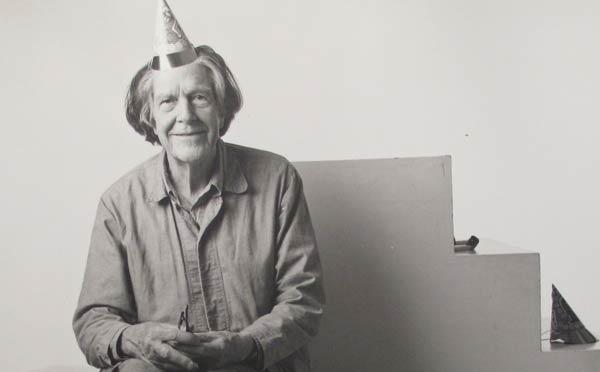 New Sounds and Q2 Music mark the John Cage Centennial by featuring a 13-week series of programs devoted to Cage's works including live performances, his final radio interview, and some now-rare recordings, along with pieces by other composers about or dedicated to John Cage.  The series, "John Cage/Citycircus," first ran in 1994 in conjunction with the run of a touring exhibit, really a four movement composition for museum, "Rolywholover A Circus," by John Cage. 
Why 13 weeks?  John Schaefer recalls, "it is also quite possible that I chose to do 13 programs via chance operations – simply seeing what I had that I wanted to use and adding it up to see how many shows it would make."  Cage just might have said, "How marvelous."
Recently in John Cage: @100
Thursday, September 09, 2010
Let the people play - why should musicians have all the fun? 
Read More

Tuesday, October 23, 2007
Listen on demand to WNYC's first-ever online music festival, celebrating the life and legacy of the patriarch of American contemporary music, John Cage. Helga Davis guides us through 24 hours and 33 minutes of exclusive audio from the WNYC archives, as well as Cage tributes, commentary, and performances by some ...

Friday, October 13, 2006
Composer John Cage, the inventor of the prepared piano and an avid collector of mushrooms, is arguably most famous (or infamous) for his silent work for piano, 4'33". On this New Sounds program, we'll listen to some of his works written for choreography. There's his Satie-esque piece "In a landscape," ...

Friday, April 03, 1998
In the 1930s, John Cage set about inventing a one-man percussion ensemble using what he had at hand: the piano. By putting rubber erasers, metal bolts, bits of wood and similar materials at predetermined places on the strings inside the piano, Cage completely altered the sounds that occurred when he hit the keys. The resulting "prepared piano" evoked Indonesia and West Africa instead of Central Europe. 

Wednesday, June 08, 1994
For this show, the fifth in the John Cage: City Circus series, hear words and music by John Cage. From an entire program of "Singing Through John Cage," recorded live at Central Park Summerstage in July of 1992, just a month before Cage died that August, vocalist Joan La Barbara performs Cage's setting of a text by e.e. cummings. Also, the Dutch ensemble The Barton Workshop, performs Cage's "Music for Six," where each player is an individual, reacting personally to pitches in a time frame and not to one another.

Wednesday, May 25, 1994
For this show, the fourth in the John Cage: City Circus series, listen to music from a tribute double album collection of John Cage pieces performed by friends, colleagues, and admirers called, "A Chance Operation." Laurie Anderson tells Merce Cunningham tales, Percussionist/composer David Van Tieghem contributed "Living Room Music," and bass player Robert Black performs a work by Larry Austin.  Plus, hear an exclusive live performance of Cage's Suite for Toy Piano, as performed by Margaret Leng Tan. 

Wednesday, May 18, 1994
In the third of these special City Circus programs, listen to highlights from a "Wall to Wall Cage & Friends" concert recorded live at Symphony Space back in 1982.  There's a percussion piece by John Cage, another percussion work by Henry Cowell, as well as some unplanned readings by the composer himself. 

Wednesday, May 11, 1994
For this New Sounds, there's more music from the influential and infamous composer John Cage, as part of his centennial celebration. 100 years old today.  Hear a 1977 performance of "Dream" by John Cage himself recorded live in Woodstock.  There's also a co-composition by Lou Harrison and John Cage, music by Henry Cowell, and more.