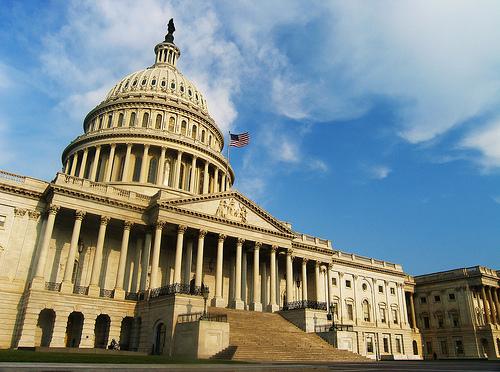 The 112th Congress has shown just how much a motivated House can accomplish - and how much it can thwart. In 2010, it was the Tea Party that made a GOP takeover possible, effectively changing the course of the Obama presidency. Where will the battles be in 2012? Who's going to fight them? And what will they mean for the next president?
In House Races to Watch, It's A Free Country pairs with The American Independent News Network to cover the most captivating and meaningful Congressional races from around the country.
Recently in It's A Free Country: House Races to Watch

Friday, September 02, 2011
Alan Grayson, the former Democratic representative from Orlando who made national headlines for his pointed criticisms of the Republican Party, is running for Congress — somewhere.
Grayson, considered to be a firebrand for the left, garnered national attention during the charged federal health care reform debates in 2009. His most famous moment came when he proclaimed on the House floor that the GOP's health care plan was for sick people to "die quickly."

Friday, September 02, 2011
The first question U.S. Rep. Frank Guinta (R) received at a recent town hall meeting in Greenland, N.H., echoed sentiments freshmen House Republicans, only seven months into their first terms, are hearing across the country from their constituents: "You signed the Grover Norquist tax pledge, but you also took the oath of office. Which one takes precedence?"

Friday, September 02, 2011
In a move that may help them stay in office despite radical reformulations of their districts by the Republicans that control the state redistricting process, Detroit Democrats Hansen Clarke and John Conyers are expected to swap districts in the race for reelection in 2012.

Friday, August 26, 2011
Minnesota's 3rd Congressional District, which encompasses the wealthy suburbs west of Minneapolis, should be competitive. Political strategists have often rated the district a tossup, but Republican Rep. Erik Paulsen has managed to keep the district in Republican hands following the 2008 retirement of moderate Rep. Jim Ramstad, even winning by double digits in 2010.

Friday, August 26, 2011
On August 1, Larry Bucshon, a freshman GOP representative from Indiana's Eighth Congressional District, joined the majority of his caucus to vote in favor of raising the debt ceiling in exchange for a package of spending cuts and the promise of more to come.

Friday, August 26, 2011
New Mexico's First Congressional District - encompassing Albuquerque, its suburbs and a sparsely populated rural area to the east - has swung with the political winds in the past two elections. Rep. Martin Heinrich saw a 12-point victory in 2008 to become the first Democrat to represent the seat, but in 2010 he came within four points of losing. Now, he's vacating the seat to run for the seat of retiring U.S. Sen. Jeff Bingaman.

Friday, August 19, 2011
Despite a courts-driven redistricting plan that could drastically reshape Minnesota's 8th Congressional District, candidates are lining up to challenge freshman Republican Rep. Chip Cravaack.

Friday, August 19, 2011
It would be premature to label Colorado's Fourth District one of the nation's swing districts, but that could change as a result of the 2012 election season.

Friday, August 19, 2011
During a July redistricting hearing in Jacksonville, Fla., Democratic Rep. Corrine Brown called her district the "most popular" one in the country. Because of its size and shape, Brown's district has taken center stage in Florida's intense fight over gerrymandering.

Friday, August 12, 2011
The fight for Florida's 22nd congressional district is shaping up to be one of the most closely watched and expensive elections in the country. Again.

Friday, August 12, 2011
When the Republican-led Texas Legislature rearranged the state's congressional districts in June, Democratic U.S. Rep. Lloyd Doggett recognized immediately that he'd face a tough road back to Washington.

Friday, August 12, 2011
If the 2012 election for Michigan's 1st Congressional district were to happen tomorrow, the one-time Tea Party favorite, Republican Dr. Dan Benishek, might have trouble holding on to the seat he took over from Democrat Bart Stupak two years ago.