John Hodgman appears in the following:
Friday, November 20, 2015
7:00 PM
Fri, Nov 20 | Is it possible to merge the commercial world with nonprofit ideals? Jesse Thorn shows us how in this hour-long talk. Followed by a Q&A led by John Hodgman.

Tuesday, May 20, 2014

Thursday, June 20, 2013
John Hodgman was on the Leonard Lopate Show recently to to talk about his comedy special "Ragnarok" and how to prepare for the end of the world. Find out who he wants to live with on a boat.

Thursday, June 20, 2013
John Hodgman shares his survival guide to the Mayan apocalypse, or as he calls it "Ragnarok." His post-apocalyptic necessities include beef jerky dollars, sperm whales, and mayonnaise,  His new comedy special "John Hodgman: Ragnarok,"  is streaming exclusively on Netflix.

Wednesday, June 19, 2013
Humorist, writer, and Daily Show "resident expert" John Hodgman has been thinking about the end of the world, and joking about it for the past year on stages across America. His new special documents the last night of his doomsaying tour. It's called "Ragnarok" (as in the Norse mythology version of the end of the world). "Ragnarok" will be available exclusively on Netflix tomorrow, June 20.

Wednesday, June 20, 2012
The Daily Show's resident expert John Hodgman and Wyatt Cenac, Emmy Award-winning writer and correspondent on The Daily Show, talk about political humor, the election, and about what goes on behind the scenes of the show. And they'll talk about Comedy Central's "Indecision in the Park," which features stand-up performances by Daily Show correspondents, including Wyatt Cenac, Al Madrigal, John Oliver, contributor Kristen Schaal, and others, and is hosted by John Hodgman. "Indecision in the Park" takes place June 20, at 8:00 pm, at SummerStage in Central Park.
Monday, December 12, 2011
Writer (and sometime guest host of the Lopate Show) John Hodgman spoke to Leonard about That Is All, the last part of his trilogy called Complete World Knowledge. He also revealed what his comfort food is and why he loved Cormac McCarthy's novel The Road.
Monday, December 12, 2011
John Hodgman discusses the third and final installment in his trilogy of Complete World Knowledge, That Is All. Like its predecessors, this book compiles incredibly handy made-up facts into brief articles, overlong lists, and fascinating narratives on new and familiar themes.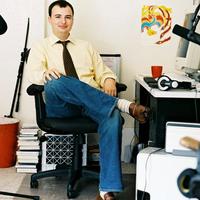 Friday, October 22, 2010
7:00 PM
The Sound of Young America returns to New York City for its second stint at The Greene Space at WNYC. Hosted by Jesse Thorn, The Sound of Young America will present its signature blend of comedy, cabaret, and music in front of a live audience.
Friday, September 10, 2010
John Hodgman talks about his favorite books, movies, and more after his recent appearance on The Leonard Lopate Show
Friday, September 10, 2010
Monday, June 22, 2009
Geeks deserve more credit than they probably get. That's the that argument John Hodgman — writer, actor, comedian, and self-professed nerd — took to the President this weekend, the supposed Nerd in Chief, when he was the keynote speaker at the annual Radio and TV Correspondents' dinner in Washington. John Hodgman joins The Takeaway, fresh from his stint. (He spoke after the President, he'll have you know.)
Watch John Hodgman address the Correspondents' Dinner:
Thursday, September 18, 2008