Jim Gaffigan appears in the following: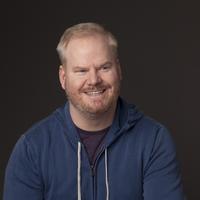 Thursday, November 6, 2014
7:00 PM
Thurs, Nov. 6 | The New York Comedy Festival and WNYC present a night of conversation with comedian and author Jim Gaffigan.

Tuesday, October 07, 2014
The comedian and author of "Dad Is Fat" was only fat for a little while. In this debut episode of our newest show, Gaffigan tells host Sara Schaefer about his background as a gymnast.

Thursday, May 16, 2013
Stand-up comedian Jim Gaffigan examines all the joys and horrors of life with his five young children and talks about his comedy career. His new book, Dad Is Fat, is reminiscent of Bill Cosby's Fatherhood, and is a humorous cry for help from a man who has realized he and his wife are outnumbered in their own home.
Thursday, May 16, 2013
Comedian Jim Gaffigan was on the Leonard Lopate Show recently to talk about his book, Dad Is Fat, and the ups and downs of being the father of 5 young kids. He also told us which Ben Folds song every dad should listen to. Find out what it is!