Jacques Pépin is an internationally recognized French chef, television personality, and author. His celebrated La Technique is used to this day as a textbook for teaching the fundamentals of French cuisine. The success of La Technique prompted him to launch a televised version of the book, resulting in an acclaimed 1997 PBS series, The Complete Pépin.
Pépin also co-starred in the Emmy Award-winning 1999 PBS series, Julia and Jacques: Cooking at Home with Julia Child. Pépin serves as Dean of Special Programs at the French Culinary Institute, part of the new International Culinary Center, in New York City. He is also an active contributor to the Gastronomy department at Boston University. Pépin also writes a quarterly column for Food & Wine and offers an amateur class each semester based on varied culinary topics. Pépin currently resides with his wife, Gloria, in Madison, Connecticut.
Jacques Pépin appears in the following:

Monday, October 24, 2016
Chef Jacques Pépin talks about his latest cookbook, "Poulets & Legumes: My Favorite Chicken & Vegetable Recipes."

Monday, November 23, 2015
We eat fresh mozzarella with the former Van Halen frontman and drink beer out of paper cups with the legendary French chef. It turns out neither of these guys is who you think they are.

Wednesday, October 21, 2015
Chef Jacques Pépin discusses the companion cookbook to his final PBS series, Jacques Pépin Heart & Soul in the Kitchen.

Wednesday, October 21, 2015
Add Jacques Pepin's Quick Pickled Red Onions and Radishes to your favorite sandwiches.
Wednesday, October 21, 2015
Jacques Pepin's Fillet of Sole: Simple, fresh and authentic.

Wednesday, October 21, 2015
Make your own tapas with Jacques Pepin's Spanish Tortilla recipe.

Wednesday, October 21, 2015
Try Jacques Pepin's Red Cabbage, Pistachio, and Cranberry Salad with Blue Cheese for a little crunchy, a little chewy, a little sweet, and a little savory.

Monday, September 16, 2013
This week we're kicking off Food Fridays series, and to whet your appetite, we're sharing a conversation from last spring. In May, hundreds of WNYC listeners joined Leonard Lopate in the Great Hall of Cooper Union for a conversation with three great French chefs. Jacques Pepin, Daniel Boulud and Eric Ripert talked about falling in love with cooking in France and then finding their way to fame and fortune in America's kitchens.
Hear Daniel Boulud describe his love of baby eels (a delicacy that's gotten very expensive). Eric Ripert shares that his nickname when he was an apprentice was "Blue Shoulders." And don't miss Jacques Pepin's fantastic Julia Child impression!

Thursday, October 20, 2011
Chef Jacques Pepin was on the show recently to discuss his favorite recipes from over 60 years in the kitchen, and he also shared what he likes to do when he's not cooking!
Thursday, October 20, 2011
Master chef Jacques Pépin talks about selecting his favorite recipes from the thousands he has created, streamlining them for his latest cookbook, Essential Pepin: More than 700 All-Time Favorites from My Life in Food. It also includes a searchable DVD demonstrating every technique a cook will ever need, and includes classic recipes, from Linguine with Clam Sauce and Vegetables to Five-Peppercorn Steak to Mémé's Apple Tart, which his mother made every day in her Lyon restaurant.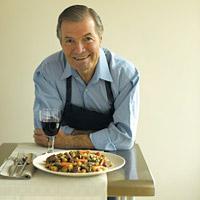 Tuesday, June 15, 2010
7:00 PM
Chefs Jacques Pépin and Michel Nischan go head-to-head in cook-off with only a hot plate and elementary cooking equipment, judged by Lidia Bastianich and complemented with a blind wine tasting with sommelier Aldo Sohm and live performance by the Eroica Trio.

Monday, June 04, 2007