Gabrielle Emanuel appears in the following:

Wednesday, February 18, 2015

For a half-century, Oxford and Cambridge have competed against each other in blind wine tasting. The big match is this week.
Wednesday, February 11, 2015

A first-time author sets out to write a culturally appropriate book for children in Mali. And learns a lot about how words and pictures go together to tell a story.

Monday, December 01, 2014

In a woodshop on the Ivy League campus, Dudley Whitney shapes blocks of wood ... and the lives of his students.

Monday, November 17, 2014

The importance of a teacher's presence in the classroom has long been debated. Our 50 Great Teachers project asks: Does does a teacher's performance distract, or does it inspire?

Monday, September 15, 2014

The author and philosopher is widely known as the father of the Harlem Renaissance. But it is not widely known that Locke, who died 60 years ago, was never buried.
Friday, September 12, 2014

Zoos and aquariums almost never buy or sell animals. But trade is thriving.

Tuesday, September 09, 2014

Maybe we should listen to the flight attendants to help us get through some turbulent times on the ground as well.

Saturday, August 30, 2014

It's hard enough being homeless, but for women there are extra dangers and challenges. One D.C. woman who has lived on the streets for decades shares some of what she's learned.
Monday, June 16, 2014

How much money do people deserve when they serve time for crimes they didn't commit? Different states have different answers.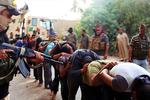 Monday, June 16, 2014
Iraq, coming apart at the seams. And the whole map of the Middle East may be in play. We'll take a cold, hard look.
Saturday, April 12, 2014

Nonfiction shelves are full of memoirs by people who can't actually write. They're brought to you by authors who suppress their own ego to write in a famous voice — in exchange for a hefty check.
Sunday, March 30, 2014

Maisie and Ella have two moms and a dad. The father was a sperm donor for the female couple, and state law allowed him to be a third parent. As families change, laws in some places are changing, too.
Wednesday, March 05, 2014

Researchers are paying people pennies to take their surveys on MechanicalTurk.com, an Amazon site. Researchers save time and survey-takers earn a few bucks.