author of food blog, smittenkitchen.com
Deb Perelman appears in the following:

Monday, December 15, 2014
The Smitten Kitchen blogger and cook talks Hanukkah food: brisket, applesauce, and latke waffles!

Monday, December 15, 2014
Just about everyone who makes breakfast has a version of breakfast potatoes, be they hash browns or home fries or skillet- smashed potatoes

Thursday, October 23, 2014
In the final installment of his fifth annual Lopate and Locavores series, Leonard Lopate learns the secrets of cookbook writing with bestselling authors Melissa Clark and Deb Perelman.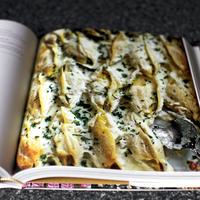 Wednesday, October 22, 2014
7:00 PM
Wed, Oct. 22 | Leonard Lopate learns the tricks of the trade from bestselling cookbook authors Melissa Clark and Deb Perelman.
A live video webcast will be available.

Friday, October 17, 2014
Videos and recipes from this year's Lopate and Locavores series in The Greene Space.

Wednesday, November 27, 2013
We're all looking forward to firing up the oven tomorrow and for those preparing a Thanksgiving feast in a Jewish household, this is the year to get creative in the kitchen. Thanksgiving and Hanukkah coincide this year, so it's time to explore where those two culinary worlds meet. Deb Perelman, food blogger and author of The Smitten Kitchen Cookbook, joins the Takeaway to discuss so-called 'Thanksgivukkah' recipes.

Thursday, February 21, 2013
Smitten Kitchen blogger Deb Perelman and author of The Smitten Kitchen Cookbook, tells Leonard Lopate about cooking at home, making up recipes, dealing with a small kitchen, and fields cooking questions.
Friday, February 08, 2013
Food writers Melissa Clark and Deb Perelman talk about peeling chickpeas in pursuit of making the best homemade hummus. Try their recipes and tell us which one you like the best.

Tuesday, December 04, 2012
Deb Perelman talks about her award-winning blog, Smitten Kitchen, and the long-awaited The Smitten Kitchen Cookbook. Like her blog, the book is all about approachable home cooking. All the recipes include simple ingredients that yield amazing results in a minimum amount of time. She explains how to lose your fear of cooking for a crowd and shares the essential items you need for your own kitchen.

Tuesday, November 22, 2011
Food writer Deb Perelman talks about her favorite Thanksgiving sides and when to start making them in advance of the holiday. Try her recipe for Swiss Chard and Sweet Potato Gratin here.
Friday, April 29, 2011
On today's Please Explain, we'll look into the art of crafting the perfect recipe. Deb Perelman, author of the popular blog SmittenKitchen.com, and John Willoughby, the executive editor of America's Test Kitchen, join us. They'll explain how to best translate home cook's imprecise cooking strategies into publishable recipes, how preparation times are calculated, and examine their favorite examples of recipes both perfect and terrible.
WEIGH IN: What are some of your most poignant recipe disasters? Did you use a tablespoon instead of a teaspoon? Let us know in the comments below!

Wednesday, June 23, 2010
It's summer time, and what better time to enjoy a fruit pie or the triumph of culinary competition? We're doing both in The Takeaway's summer fruit pie smackdown.
Melissa Clark from the New York Times is ready to rumble with her sour cherry pie. And Deb Perelman of smittenkitchen.com brings her own strawberry rhubarb pie to the competition.
Serving as the judge is Emily Elsen, third-generation pie maker, featured chef on the Cooking Channel's Unique Eats, and owner (along with her sister Melissa Elsen) of Four and Twenty Blackbirds Pie Shop in Brooklyn, NY.  (recipes after the jump.)

Thursday, June 17, 2010
Rhubarb brings a unique tang and acidity to both sweet and savory dishes. Get a recipe for couscous with rhubarb, asparagus and walnuts here, and learn more about rhubarb wine.