Dan Barber is a chef and co-owner of restaurants Blue Hill (Manhattan), Blue Hill at Stone Barn. He has been trained at the French Culinary Institute and graduated from Tufts University with a B.A. in English. Barber has written on many food and agricultural policies in the New York Times, Gourmet, Saveur, The Nation and Food & Wine. His restaurants promote efforts to forward local cuisine. Seasonal produce is grown and raised, and then grilled over local wood fuel from the nearby forests. 
He has also given talks at the TED Conference. He has also been appointed by President Obama to serve on the President's Council on Fitness, Sports and Nutrition. He also serves on the Advisory Board to the Harvard Medical School for Health and the Global Environment. In 2002, Barber was named one of the Best New Chefs by Food & Wine Magazine. 
He has also received the 2006 Best Chef: New York City and 2009 Top Chef: Outstanding chef and top chef in America from the James Beard Foundation. In addition to his monumental success in 2009, Time Magazine awarded Barber with one of the world's most influential people in their annual Time 100. The Blue Hill has been recognized as one of US's Top 40 Restaurants by GAYOT.com.
Dan Barber appears in the following:

Monday, August 17, 2015
Americans waste 70 billion pounds of food a year. But Chef Dan Barber isn't one of them. He's taking food from the trash and putting it on people's plates.  

Thursday, March 19, 2015
A new Greenwich Village pop-up restaurant, wastED, features a menu devised from leftovers: stems, peelings, rinds and bones. 

Monday, January 26, 2015
This is a recipe with tips from Chef Dan Barner, of Blue Hill at Stone Barns. 

Friday, October 10, 2014
Decades ago, as agriculture became centralized, seeds were selected for yield, and many varieties nearly went extinct.

Wednesday, May 21, 2014
Grains like barley keep our soil healthy, and an explosion in microbrewing has created a local market for them. Chef Dan Barber says that's the kind of synchronicity needed to save our food system.
Friday, March 15, 2013
Food & Wine editor-in-chief Dana Cowin discusses the future of food with Dan Barber, chef and co-owner of Blue Hill and Blue Hill at Stone Barns, and Dave Arnold, a partner at Booker & Dax.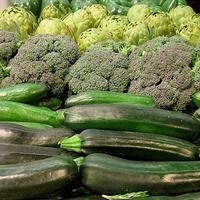 Tuesday, September 27, 2011
7:00 PM
Award-winning chef Dan Barber, vegetable farm manager Jack Algiere, Frank Falcinelli, Frank Castronovo and Michaela Hayes will join   Leonard Lopate to discuss the art of cooking and canning vegetables in this interactive event.
Friday, December 10, 2010
Christine Quinn, City Council Speaker, and Dan Barber, executive chef and owner of Blue Hill and Blue Hill at Stone Barns, talk about "Food Works," a comprehensive plan unveiled by Speaker Quinn last month that calls for a more sustainable food system—a ground-to-garbage approach unprecedented in the history of New York City. The proposals focus on combating hunger and obesity, preserving regional farming and local food manufacturing, and decreasing waste and energy use.

Wednesday, September 08, 2010
From Bach's Coffee Cantata to Leonard Bernstein's song "Plum Pudding," food and classical music have long intersected. Today, the Mirror Visions Ensemble join us to preview Richard Pearson Thomas's "know thy farmer," a new cantata based on menus from chef Dan Barber 's Blue Hill restaurant.
Wednesday, August 19, 2009
August is typically the month where tomato enthusiasts can count on an abundance of their beloved juicy, red gems. This year, however, a "late blight" is devastating tomato crops acro...
Tuesday, August 11, 2009
Dan Barber
, chef and co-owner of Blue Hill and Blue Hill at Stone Barns, looks beyond heirloom tomatoes for an answer to this
summer's blight
.

Monday, June 04, 2007