October 16, 2011 10:30:54 PM
: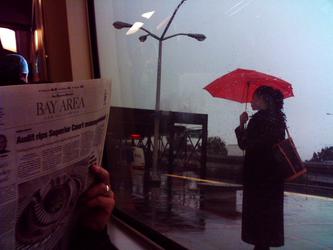 :
RedRainBart:
A classic "decisive moment" where a number of picture elements come together for just a moment.
On a rainy morning in October 2005, reading the NY Times digest on my Palm Zire, I glance up and spot the light coming thru the red
umbrella, the lady's body language..and light coming thru the guy's newspaper. Time to get off only one shot with the zire's primitive 1mb camera,before my train pulled out of the station. The other train leaving the station,the red destination sign,and the spotlight on the stocking cap of the man watching the lady were pure serendipity.
Obviously not NYC, but it IS an "interpretation of the teeming, vibrant, transportation systems that criss-cross our urban environments."
In this case, McArthur Station platform, Oakland, California.
Today an IPhone would capture a much higher quality image.