March 07, 2011 09:39:36 AM
:
Hidden Glen Arts Festival, held for the last 22 years in Cedar Creek, Olathe, KS
:
Hidden Glen is a 100% volunteer run arts festival that is supported entirely by grants and sponsorships. The festival lost the City of Olathe art foundation grant three years ago when the economy went bad, and now the KAC grant has been put on hold. We can no longer sustain the festival with only corporate sponsorships. The juried festival draws 6000-8000 attendees a year, as well as 87 tax-paying artists. Unlike most art festivals, HGAF is not sponsored by a neighborhood association, or a merchants organization, or by any government entity. It is an independently run 501(C)3 nonprofit run by a board of directors solely to provide visual and performing arts to the Johnson County community and their families. In addition, the festival offers three $1000 scholarships to three Johnson County high school seniors. HGAF is now sidelined for the year 2011.
: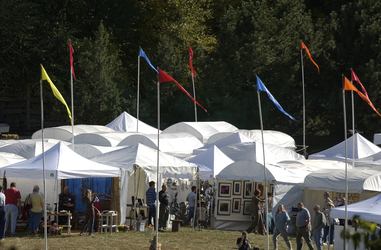 :
I am on the board of directors for the Hidden Glen Arts Festival. I have volunteered several years and am currently the Chair of the Visual Arts committee for the festival and the secretary to the Board.