November 29, 2010 06:58:35 PM
: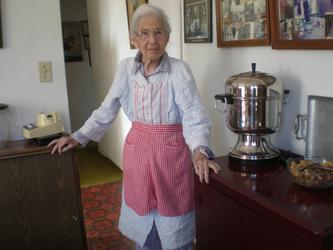 :
My Mom, Lily, 99 years old, made this apron a few years ago.
The skirt is made from the back of a pair of my uncle's bermuda shorts. The bodice and strings are from my Dad's shirt. The neck piece is recycled from venetian blind tape that held the slats in place.
Since then, she has made aprons out of dresses, skirts, shirts, so that the apron retains the look of the original source-as with the bermuda shorts.