November 23, 2010 11:32:22 PM
: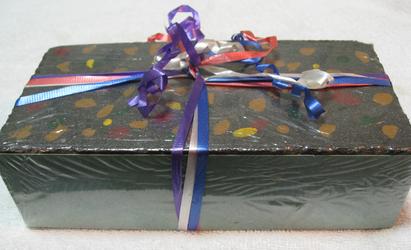 :
The Fruit Cake Brick
'from an ole family recipe'
Fruitcakes are known to take on lives of their own, passing from one person to the next, sometimes lingering long enough to carbon-date. Now introducing 'The Fruit Cake Brick'. It's festive, it's traditional, it weighs five pounds, and it's inedible — just like the real thing. All you need to create this holiday fixture is a brick, paint, cardboard, ribbon, and shrink wrap. I've given these as gifts for years...people use them as doorstops and paper weights, or take to holiday parties. After a enough 'holiday spirit', guests will tear into one of these bad boys only to learn that it's petrified. Perfect 'hand me down' and/or re-gift.