December 19, 2012 10:51:19 AM
: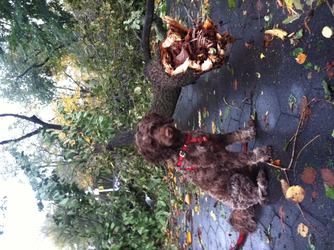 :
When/Where: Immediately post-Sandy on Riverside Drive.
Why: Using my 11 month old puppy Tango for scale, I wanted to show my friends how Sandy impacted my neighborhood, the Upper West Side: wind more than water.
I like it because the photo tells that story AND more personally, I was pretty psyched about this sit-stay - he would usually come and lick the camera. And the photo also speaks to my puppy's love of sticks, but that's not so universally newsworthy!