May 17, 2012 11:53:33 AM
:
My idea, unrealised, but hopefully living on forever in the memory of all who can imagine it, is called GHOSTSHIP/THE TITANIC PROJECT: a monumental site-specific installation recreating the ill-fated ocean liner TITANIC as a floating deck plan (in its original size — 882 feet long; 92 feet wide), projected in light onto the surface of the Hudson River at Pier 59 (due west of West 18th Street), the ship's intended destination in 1912.
This project is part of a series of mine called MEMORIAL LIGHTSCAPES, conceptual landscapes dedicated to the memory, both personal and collective, of "lost spaces" — that is, places with a particular psychological weight because they no longer exist and where their disappearance is the result of tragic events. These projects propose the installation of life-size "in-the-night-landscape" drawings made of light that are based on the actual architectural blueprint plans or historic maps of the lost spaces they represent; geographical juxtapositions as a counterpoint of memory.
I am interested in provoking historical memory as well as in stimulating the imagination, compelling viewers to envision a "New York That *Should* Have Been." GHOSTSHIP / THE TITANIC PROJECT proposes a monumental twist of time and fate.
:
Manhattan, the Hudson River at Pier 59; due west of 18th Street
: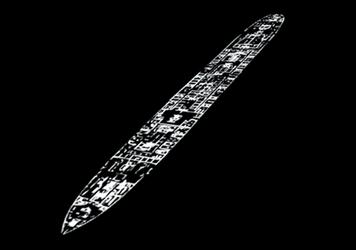 On the Brian Lehrer Show we're talking about public art, and we want to know what public art project you'd propose. Make it simple, make it over-the-top. Make it realistic, or completely impossible! Note: These aren't actual pitches, just a way to share our ideas.