May 17, 2012 11:21:03 AM
:
I WALK THEREFORE I AM
a Collective Participatory installation about Walking in the City
Walking is the most primordial way to go through space and time and is the ideal transportation means at an urban scale. Walking promotes physical and mental fitness by cardiovascular exercise and can also lead an educational experience and enjoyment.
I Walk, Therefore I Am consists of daily itineraries linking different natural and cultural events in several cities. Each itinerary contains information about natural events often forgotten in urban life, such as the time of sunrise and sunset or the moon phases and eclipses —and the places to best appreciate them in the city canyons. Cultural and social awareness events are also included.
The information will be delivered through the blog axesmundi http://axesmundi.blogspot.com/ which has already collected information from several recordings of urban life of several cities, including New York, Miami and Rome. AR (Augumented Reality) applications to be used in smartphones will be implemented, superimposing information to camera views.

: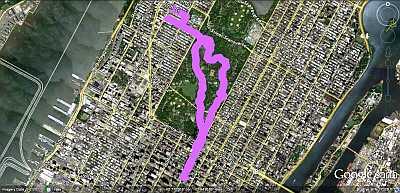 On the Brian Lehrer Show we're talking about public art, and we want to know what public art project you'd propose. Make it simple, make it over-the-top. Make it realistic, or completely impossible! Note: These aren't actual pitches, just a way to share our ideas.